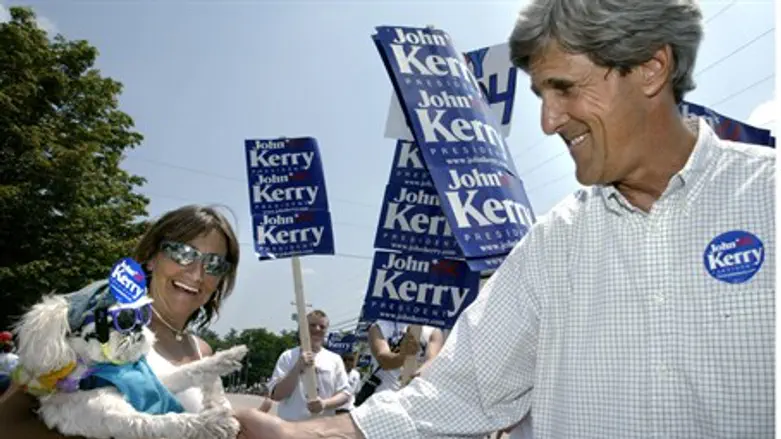 Lapdog of the Arabs? (file)
Reuters
US Secretary of State John Kerry is the "lapdog of the Arabs," according to Attorney and senior political commentator Yoram Sheftel, who gave Arutz Sheva on Friday his response to Kerry's blaming of Israel for peace talk failures this Tuesday.
"We witnessed the horror show of the hater of Israel, who blamed us that the peace talks blew up because we didn't release lowly worthless murderers, and we announced the building of 700 apartment units in 'settlements' in Jerusalem; this is how he defines Jewish building in Jewish neighborhoods of the capital," remarked Sheftel.
Kerry indeed said before the Senate "Israel didn't release the Palestinian prisoners on the day they were supposed to be freed, and another day passed, and another day, and then another 700 settlement units were announced in Jerusalem, and 'poof'...that was sort of the moment."
The recap Kerry presented ignored the fact that building freezes were not a precondition to talks, and that Palestinian Authority (PA) Chairman Mahmoud Abbas breached conditions last Tuesday applying to join 15 international conventions, effectively scuppering the talks. Kerry simply called Abbas's move "clearly unhelpful." As for the release of terrorists, Israel delayed the move due to a total lack of talk progress and widespread opposition.
"This man is soaked with hatred of Israel from the soles of his feet to his head," remarked Sheftel of Kerry.
"The stupid and foolish idea that the bloody conflict with the Arab enemy, which hopes to destroy the Jewish people, can be solved within nine months, shows the lack of intelligence in Kerry's cranium," charged the senior commentator.
With an American mediator like Kerry, Israel doesn't need haters, said Sheftel.
"[Kerry is] such an unfair moderator that is so biased towards the Arab enemy - it was clear from the start that he would make any possibility to reach an agreement fail," he added. "The Arab enemy understands that Kerry is their lapdog, and therefore Kerry only has himself to blame for his foolish initiative, and his one sided support for the Arab enemy."
Speaking before the Senate this week, Kerry further blamed Israel for demanding recognition as the Jewish state, a demand Abbas consistently refused, bringing the talks to a standstill.
"The government of the United States and the president supports the notion of Israel being defined as a Jewish state," Kerry noted. "We believe that that should happen. But when it happens, and how it happens, has to be part of the negotiations. It's not going to happen in the beginning."