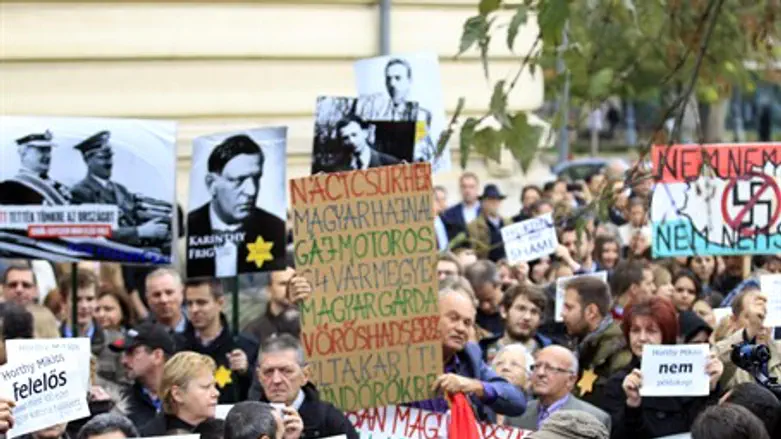 Hungarian protesters in Budapest (file)
Reuters
In a protest action Tuesday, hundreds of people in Hungary's capital city of Budapest prevented work on a monument seen as whitewashing the country's responsibility in the Holocaust.
Roughly 300 people broke down a cordon put up by workers and seized control of the site where the monument is planned. For now, police are reportedly observing the protesters without taking action.
The massive monument commemorates the 1944 invasion of Hungary by the Nazis, and is viewed as an attempt to portray Hungary as a victim rather than an active partner of the Nazis. The statue is to depict a German imperial eagle attacking a seven meter-tall (22 feet) Archangel Gabriel, representing Hungary.
Miklos Horthy, Hungary's anti-Semitic leader at the time of the Holocaust, was an ally of Hitler and actively complicit in the mass deportations of Jews to Nazi death camps in 1944, which resulted in the murder of around 450,000 Hungarian Jews.
An opposition politician protesting the monument, Szabolcs Kerek-Barczy, told AFP that a vigil would prevent construction on the memorial.
"It is an extremist memorial that covers up the past with a lie, and a gesture (by Prime Minister Viktor Orban) to the far-right," remarked Kerek Barczy. "We won't let it be built!"
Construction was postponed from March 19, the 70th anniversary of the mass deportations of Jews, after the country's largest Jewish organization Mazsihisz pulled out of the anniversary commemorations over the monument.
In response to the protest, the construction was delayed to after the general election, which was held Sunday. The Hungarian government tried to moderate the controversial memorial, saying it was no longer "dedicated to the memory of the German occupation," but to the "victims of the German occupation."
In the election on Sunday, Orban was re-elected in a landslide win, while the openly neo-Nazi Jobbik party came in third, strengthening it's hold with 20.5% of the vote.
Orban himself has taken far-right tones in the past, even as he now positions himself as a bulwark defending against the neo-Nazi party. After the elections, he commented on Monday "we are close to a two-thirds majority in parliament. I think that's the best defense against the far-right."
Nevertheless, Orban's government began work on the controversial monument, with a statement on state-run newspaper MTI reporting Tuesday construction had started, noting "the work is scheduled to be finished by May 31."