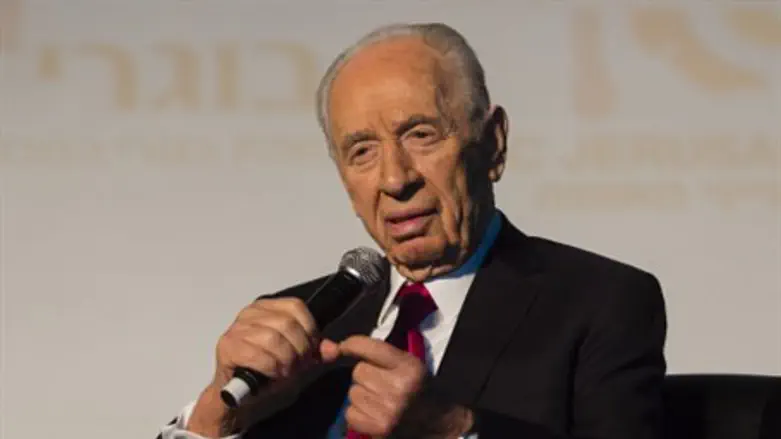 President Shimon Peres
Flash 90
President Shimon Peres refuses to give up hope on peace talks between Israel and the Palestinian Authority (PA), stating in an interview Tuesday that Israel should "do everything possible" to continue negotiations.
"There are still budding hopes [for talks]," Peres stated, in an interview with IDF Radio. "We should encourage [negotiations] and work hard for them [to continue]."
"You should not say kaddish [the traditional Jewish prayer over deceased relatives - ed.] over talks," Peres insisted. "We should do everything possible to continue negotiations."
After a dramatic series of negotiations, Israel officially cancelled the fourth release of convicted Arab terrorists on Thursday and issued harsh sanctions on the PA over its unilateral diplomatic moves to apply for 15 UN-linked agencies.
In response, the PA issued a number of extreme demands against Israel, including the release of over 1,000 terrorists and a withdrawal to 1949 Armistice lines - essentially demanding concessions on all key issues before negotiations even continue.
The PA also continues to blame Israel over talks failing, claiming the release was pre-planned and that Israel merely wanted to stall for time. Ramallah has also blamed "settlement building" for the failure. 
Drama only escalated over the weekend, after Prime Minister Binyamin Netanyahu promised to exact his own "unilateral measures" in the event the PA's bids for legitimacy go through.
Economics Minister Naftali Bennett called on the government to turn the tables on the PA, by lodging war crimes charges at the International Criminal Court at the Hague, should Abbas follow through on his attempt to join it.
Israel's UN Ambassador Ron Prosor gave weight to that proposal on Sunday, noting that the PA was in fact already violating of most of the international legal conventions it seeks to join.