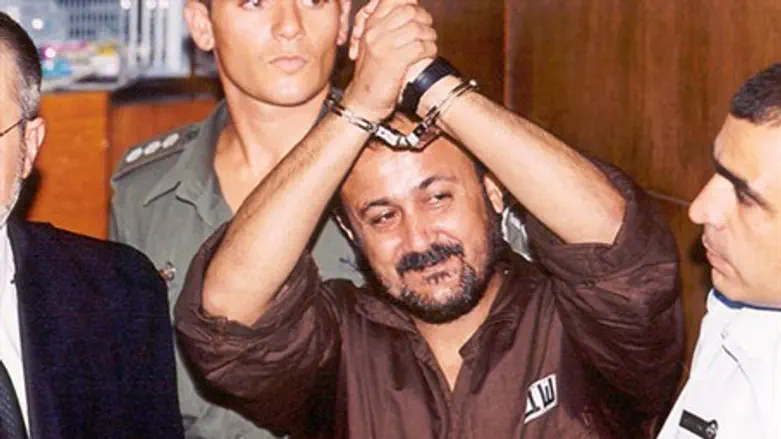 Marwan Barghouti
Flash 90
Palestinian Arab arch-terrorist Marwan Barghouti has accused the Palestinian Authority (PA) of neglecting the issue of terrorist releases on Sunday, and called through a message transmitted through his wife for all Palestinian Arab terrorist groups to put his release on the top of the agenda. 
The note, entitled "Insurgency Strategy," declares that terrorist releases are "the most important factor" in "resisting the Occupation," and calls for renewed action to secure the fourth batch of terrorist releases, according to Ma'ariv. 
The message was read by Barghouti's wife, Fadwa, at the third annual meeting of the Palestinian Center for Policy Research.
In it, Barghouti described the treatment of the terrorists in Israeli prisons, adding that the fact that they are still incarcerated is a "failure."  
"National liberation movements have neglected the issue of release of prisoners and ignored them," Barghouti claimed. "They signed the Oslo Accords without releasing a single prisoner as a precondition, and without including any reference to prisoners in the future." 
"There are 5,000 prisoners in Israeli jails, of which more than a thousand inmates who are in prison for over ten years," he continued. "Five hundred of these prisoners were sentenced to life, and more than a thousand sentenced to more than ten years of imprisonment. These numbers are the biggest since the occupation began in 1967."
He also accused Israel of "arresting more than 100,000 Palestinians in the West Bank, Gaza, and Jerusalem" since 2000. 
The fourth batch of terrorist releases has sparked high tensions between Israel, the US, and the PA this week, after Israel refused to release the convicted murderers over statements that the PA is only staying in peace talks for the sake of their release.
The PA reiterated calls to release Barghouti, who is currently serving five consecutive life sentences, as well as fellow arch-terrorist Admed Sa'adat.
Barghouti is widely perceived as a popular choice to replace Abbas, whose term in office expired several years ago.From his jail cell, he has threatened Israel with a third intifada, albeit an unarmed once, and has declared he "would not give up and I claim that the right of return is a sacred right of the Palestinians."