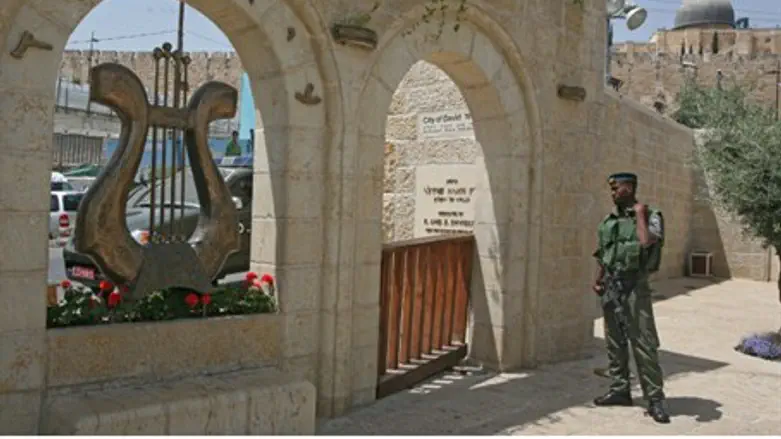 City of David
Flash 90
A new tourism center was approved on Thursday night for the City of David National Park, located just 20 meters (65 feet) south of Jerusalem's Old City walls, a short walk from the Western Wall.
After hearing objections, the Jerusalem Regional Planning and Building Committee gave the green light to plans for the new Kedem Center, which were submitted by the Elad association that administers City of David, and the Israel Nature and Parks Authority, with the backing of the Jerusalem Municipality.
"The plan to build the visitors' center will aid in exposing the important archaeological finds to the broader public and serve as a focus for tourism that will help in developing the city of Jerusalem," noted the Committee's announcement of the project's approval.
The new approval will advance construction on the center, containing a museum, visitors' center and auditorium in City of David's Givati parking lot excavation site, reports Haaretz. The center will also provide access to the City of David National Park, and display recent archaeological finds.
In approving the project, the Committee gave conditions that the height of the building must not exceed the street level above the area near the Old City wall, so as to maintain the general building height in the neighborhood. The center's roof and passages to the lower level were ordered to be open to the public.
Just last Wednesday, Jerusalem Councilman Moshe Lion, who ran for the post of Jerusalem mayor last October and lost to incumbent Nir Barkat, had rocks thrown at him by Arab residents as he visited the Shiloach (Silwan in Arabic) neighborhood that lies next to City of David.
"I want to strengthen the residents, and call on the Jerusalem municipality and government sources to do as much as possible help the Jewish presence and the security of residents," Lion said after the incident.