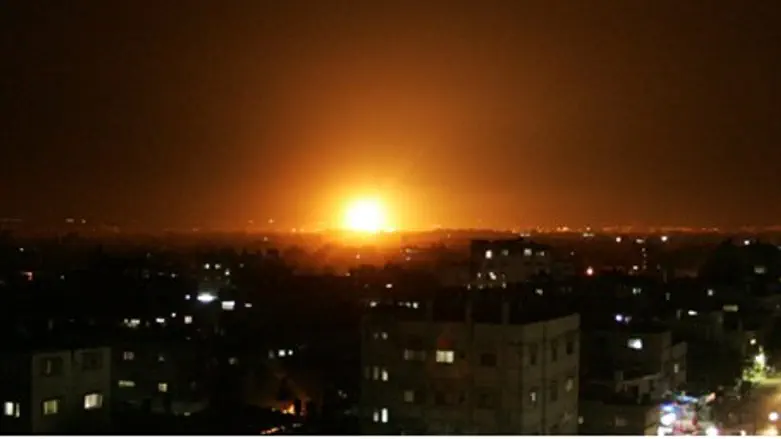 IAF airstrike in Gaza (archive)
Flash 90
The Israeli Air Force (IAF) struck in Gaza on Thursday night, hours after terrorists fired several rockets towards Sderot and the surrounding communities.
According to Kol Yisrael radio, Palestinian Arab sources that targets in Gaza City and in northern Gaza were hit. These targets, they said, included two Hamas outposts.
The IDF Spokesperson's Unit said that a total of five terror targets were hit, four of them in northern Gaza and one in central Gaza.
Direct hits were identified, the statement noted.
"The IDF will not tolerate any attempt to harm Israeli citizens and IDF soldiers and will continue to act decisively and strongly against anyone who uses terror against the State of Israel," said the IDF statement, adding that Gaza's Hamas rulers were directly responsible for the rocket attacks.
Earlier reports indicated that four Kassam rockets were fired towards southern Israel. All four exploded in open areas, causing no physical injuries or damages.
On Thursday morning, Arab snipers in Gaza shot at IDF civilian workers working near the security fence. None were injured in the attack, although engineering equipment was damaged by the gunfire.
The latest attacks come just three weeks after terrorists in Gaza unleashed a barrage of rockets on Israel, raining down at least 100 missiles in three days.