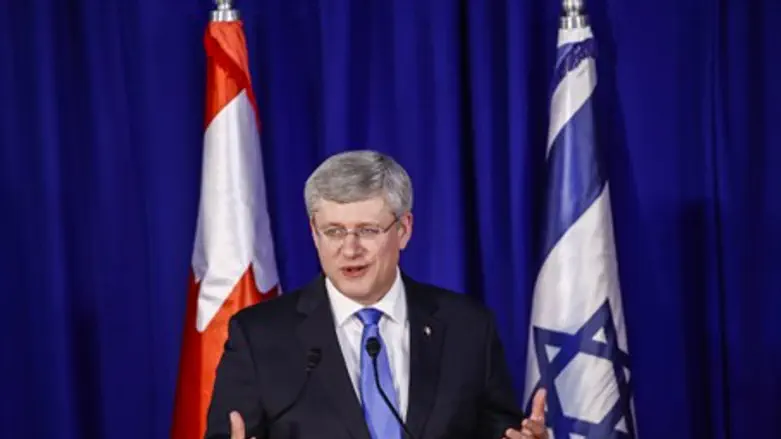 Canadian PM Stephen Harper
Flash 90
In advance of the upcoming 2015 Canadian prime ministerial elections, Liberal party leader Justin Trudeau has claimed that Prime Minister Stephen Harper's policies reflect an effort to pander to the Jewish vote.
Trudeau accused Harper of pursuing a staunchly pro-Israel foreign policy so as to gain Jewish votes, during an interview last Thursday with the Farsi-language weekly newspaper Salaam Toronto. The paper is read by Iranian-Canadians, and is widely recognized as being supportive of the Liberal party.
"Until the prime minister was chosen to be prime minister, he practically didn't travel abroad, and his position on foreign policy was from the point of view of 'can it advance my election campaign or not,'" claimed Trudeau to the paper, reports Shalom Toronto.
"His (Harper's) position on issues tied to Israel or to the United Nations is very much based on what can affect his standing in the ballot box," charged Trudeau.
The Liberal party leader attacked Harper further, saying the crisis in Ukraine troubled him because of the presence of a large Ukrainian community in Canada that is worried about the crisis. Trudeau claimed Harper's visit with Minister of Foreign Affairs John Baird to Ukraine was meant as a photo opportunity to gain more votes.
Trudeau attacked Baird as well, saying his trips abroad were used to represent his Conservative party, and not Canada. In doing so, the Liberal leader charged Baird with harming Canada's openness and accountability.
Supporting ties with Iran 
Speaking to the Iranian-Canadian paper, Trudeau slammed Canada's tough stance on Iran's nuclear program, saying "the Iranian people are different from the Iranian government. The current Canadian government isn't going to the root of the issue at all and doesn't under this. The most obvious example of this was the decision last year to close the (Canadian) embassy (in Tehran)."
The embassy was in fact closed in September, 2012. While Trudeau recognized the security concerns that led to the decision, he espoused an approach of dialogue "with regimes we have opposing opinions with." He argued for keeping open communications with Iran, ostensibly to protect Iranian-Canadians in the Islamic regime.
"My approach to Canada is different," argued Trudeau, saying after he became leader of the Liberal party he traveled to Washington DC and took positions that "surprised many." 
The Liberal leader, after accusing Harper of calculated political decisions, claimed he hadn't voiced his opposition to Harper's opinions earlier so as to preserve a unified Canadian voice in the international arena.
Trudeau, who is leading in polls for the election race, has in recent months argued that Canada should take a more "balanced line" regarding the Middle East, potentially signifying a shift away from support for Israel.
While Trudeau has accused Harper of playing a political game for support with local Jews, he himself has spoken in favor of drawing closer to the large Muslim population in Canada.