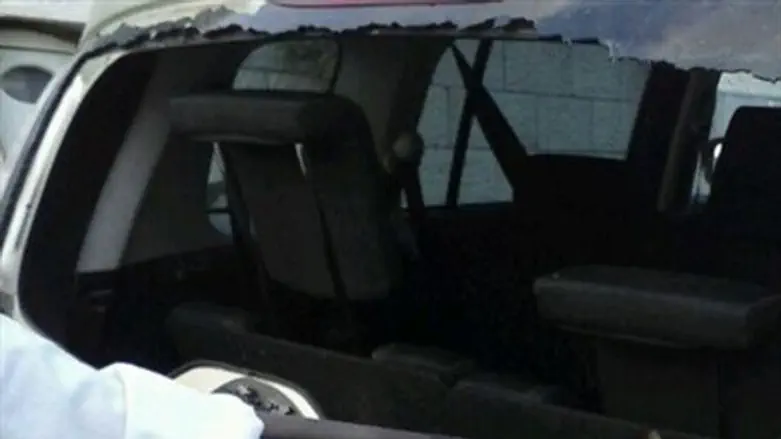 Rock attack in French Hill
Raphael Delarosa
Raphael Delarosa, a Jerusalem resident and father of well-known journalist Emily Amrousi, was attacked Tuesday while driving his car in the French Hill neighborhood of the capital. The attackers, from the Arab neighborhood of Issawiya, threw stones and bricks at his car, shattering the rear windshield.
Speaking to Arutz Sheva, Delarosa reported "I was on my way to a building supplies store right behind the Hadassah Mount Scopus Hospital, on the border between two Jerusalem neighborhoods - Issawiya and French Hill."
"I left the store, said thank you to the pleasant Arab salespeople, drove 50 meters and suddenly was attacked by a hail of blocks and stones thrown by 16- to 17-year-old youth," noted the Jerusalem man.
Delarosa emphasized that he didn't try to escape the area, but rather left his car and went to the Arab store owners standing around, saying "look at what they did to me, no one will make us run from here, from sovereign Jerusalem."
The Jerusalem resident added that he contacted the building supplies store as well to tell them of the incident, at which workers from the store ran over to apologize.
"The car was seriously damaged, all the rear windshield was smashed and the trunk was bent," added Delarosa. "I was left without any injury and submitted a complaint to the police; it's a shame the officer recorded it as an attempt to harm someone in a traffic lane... they tried to kill me - nothing less."
Attacked in capital in broad daylight
Amrousi, Delarosa's daughter who lives in Samaria and works as a journalist writing for Yisrael Hayom, wrote on Facebook about the irony of the situation.
"Welcome to the statistics," wrote Amrousi. "My dad drove to do some shopping in the Jerusalem neighborhood of French Hill, and after hearing all the time 'what's your daughter doing in the territories' - he was bombarded by stones in broad unprotected Jerusalem daylight. In our capital. In the light of day."
Amrousi finished her comment with a sarcastic remark, saying "the eternal city, the 'rock' of our existence/ the new interpretation."
The number of attacks generating from Arab residents of Issawiya have led students at nearby Hebrew University Mount Scopus Campus to declare the area a "war zone." New IDF regulations last November revealed the army also deemed the area unsafe for its soldiers.