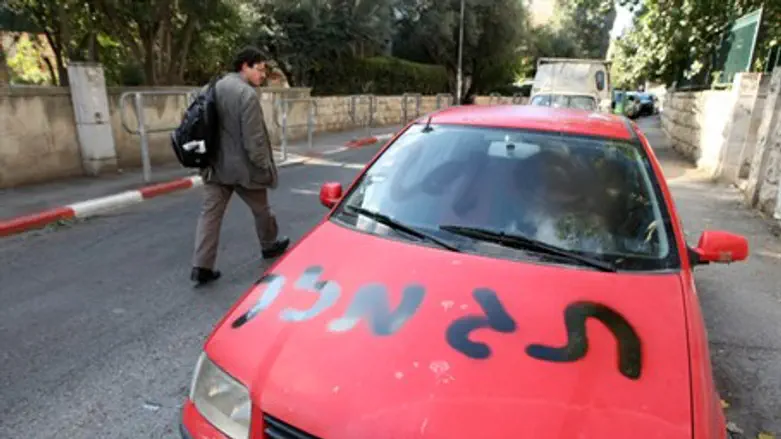 Price tag vandalism (illustration)
Flash 90
Police are investigating another alleged "price tag" attack carried out at the Dir-Rafat monastery in the Beit Shemesh area on Monday night, after four vehicles' tired were slashed and graffiti was painted.  
Graffiti on the walls included the Hebrew phrases for "America is Nazi Germany" and "Price tag [for the] peace agreement."
Mateh Yehuda Regional Council Head Moshe Dadon rushed to the monastery Tuesday morning and ordered the security department of the council to scrub the graffiti as soon as possible.
"This is a painful phenomenon that affects the residents under the auspices Regional Council, who are all respectable people," Dadon stated. "The state must address this phenomenon." 
Dadon's words echo statements issued by President Shimon Peres last week, who slammed "price tag" attacks in an address at a swearing-in ceremony for judges. 
"We are witness to acts of the desecration of holy places, damage to property and the uprooting of trees - all carried out with nationalist motives," Peres stated. "These acts are known as 'price-tag' attacks, a term taken from the commercial world."
"Preserving our moral values and acts against the rule of law are not a commercial issue," he continued. "The security services must deal with these ugly acts with the full force of the law."
The statements appeared after a dramatic night of talks between US Secretary of State John Kerry and Prime Minister Binyamin Netanyahu over peace talks - and snowballing outrage at the US for demanding Israel release more Palestinian Arab terrorists. 
However, it remains unclear whether the attacks were really the outcome of frustration among Israelis at the talks, as an Arutz Sheva report in January revealed that in at least some of the cases, anti-Arab "price tags" were being systematically staged by Arab activists.