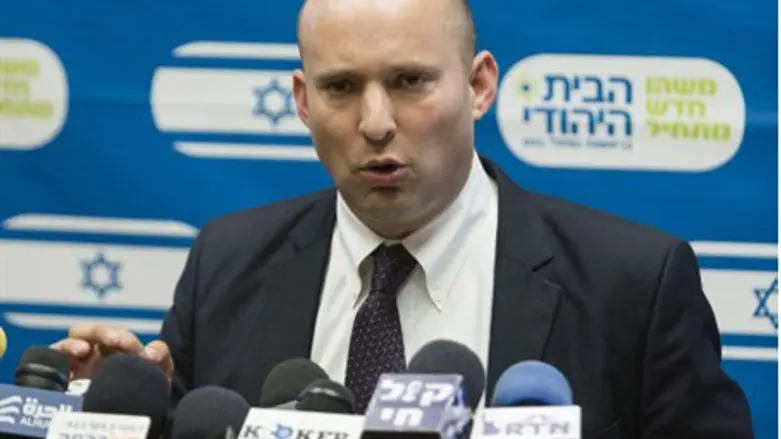 Naftali Bennett
Flash90
Speaking to students at Ono Academic College Monday, Economics Minister Naftali Bennett said that if it were up to him, he would annex Judea and Samaria and impose Israeli law there. "Give me 40 seats in the Knesset and I will take care of it," he said in response to students' questions.
Bennett spent most of the session answering questions, many of which were about the negotiations between Israel and the Palestinian Authority. He predicted that the talks with the PA would soon fall apart, "for a simple reason – they do not recognize Israel. We must get used to the idea that we will be able to live here despite our disagreements with the Palestinians and their supporters. But we must be unified. We are not going to disappear to satisfy their desires," he said.
Despite the aura of crisis surrounding the talks and the perceived threat to tens of thousands of residents of Judea and Samaria who would be uprooted from their homes if Israel and the PA signed a deal, Bennett said that things were looking up in the region.
"If you go to the Barkan industrial zone near Ariel in central Samaria, you see that there are many businesses where Jews and Arabs work together. The secret to this coexistence is that when people are working and earning money, they realize how petty the political issues are."
Bennett added that if it were up to him, he would remove roadblocks in Judea and Samaria. "We need to enhance security with intelligence and intervention, not barriers – and we know how to do this," he said.
Bennett also said that he was working to ensure that the government did not release terrorists. "We are in a dangerous cycle, where we are being told we have to release terrorists in order to continue negotiations," he said. "I have conducted many negotiations in my lifetime and I have never been told that I have to pay up front in order to talk, but this is what PA chief Mahmoud Abbas wants."
Regarding Abbas' threats to take his case to the UN if Israel does not consent to release more terrorists, Bennett said that "Abbas should stop threatening us, as he is alive only because we protect him. Without the IDF, he will not survive," Bennett added.