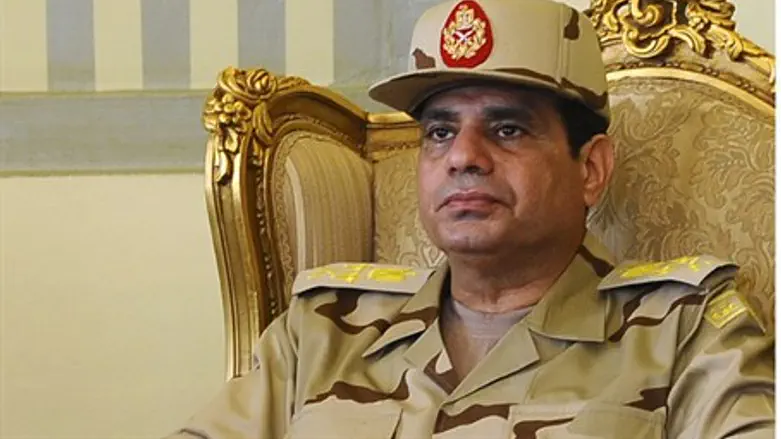 Abdel Fattah al-Sisi
Reuters
The Muslim Brotherhood has voiced its opposition to Egyptian army chief Abdel Fattah el-Sisi's bid for the presidency.
Speaking to AFP shortly after Sisi officially announced his plan to run, a leader of the Muslim Brotherhood said that Sisi was not a suitable candidate.
"He led a coup to become president. He is a man who has killed daily since the coup," Brotherhood's political bureau member Ibrahim Munir told the news agency by telephone from London.
The Brotherhood further warned there could be no stability in Egypt under the "shadow" of his leadership.
Earlier, Sisi said he had quit the military to run for president and vowed to rid the country of "terrorism."
"Today, I stand before you for the last time in a military uniform, after deciding to end my service as defense minister and commander of the armed forces," he said, dressed in his field marshal's uniform and sitting behind a desk.
"With all modesty, I nominate myself for the presidency of Egypt," said Sisi.
Just hours before Sisi's address, clashes between ouster President Mohammed Morsi's student supporters and police killed one protester at a Cairo campus, reported AFP.
In southern Egypt, prosecutors referred more than 900 suspected Islamists to trial, two days after a court sentenced 529 to death for deadly rioting.
Morsi himself, detained on his ouster on July 3, faces several trials along with much of the Muslim Brotherhood leadership.
Since Morsi was ousted, more than 1,400 people have died in street clashes, and thousands have been imprisoned. The Muslim Brotherhood has been outlawed and has been designated as a terrorist organization by the army-led government.