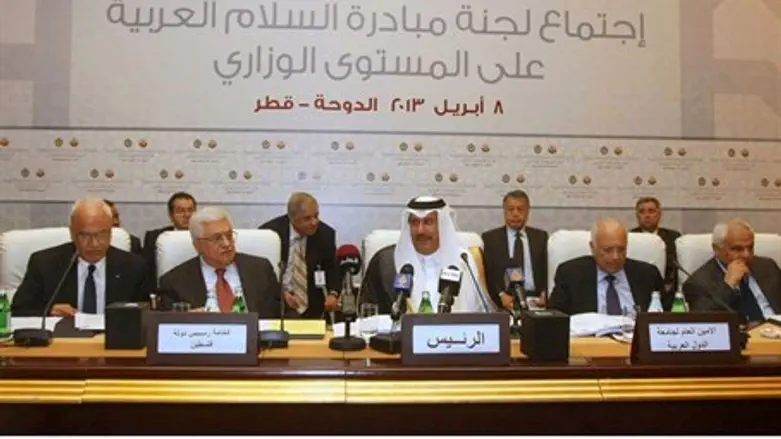 Arab League meeting (file)
AFP photo
At the conclusion of the two-day Arab League summit in Kuwait on Wednesday, Arab leaders announced their rejection of Israel's request for recognition as the Jewish state.
The final statement of the summit declared its "total rejection of the call to consider Israel a Jewish state," reports AFP. The summit further stated "we hold Israel entirely responsible for the lack of progress in the peace process and continuing tensions in the Middle East."
In making the announcement, the Arab League backed Palestinian Authority (PA) Chairman Mahmoud Abbas, who has led the peace talks to a loggerhead by adamantly refusing to recognize Israel as the state of the Jewish people.
Abbas told the summit the PA "rejects even discussing the issue," claiming it undermines the PA demand to have descendants of Arab residents who fled Israel during the foundation of the modern state in 1948 to "return."
But Israel hit back that Abbas's stand on the issue "could torpedo the peace process."
The PA leader had "boasted that he refuses to even discuss recognizing the Jewish state, once again parading rejectionism as virtue," a senior Israeli official said.    
"By reiterating his adversarial maximalist position, Abbas is undermining President (Barack) Obama's vision of peace and torpedoing Secretary Kerry's efforts to move the process forward," he added
Critics note the PA's demand to grant a "right of return" for Arab refugees would effectively give the PA two states. The demand for "return" puts Israel in danger of having an Arab majority, given that roughly five million Arabs worldwide claim to be descendants of "Palestinian refugees."
Prime Minister Binyamin Netanyahu said in February that "recognition of the Jewish state is a necessary condition for peace," and challenged "I'm ready to accept their existence in their country, why don't they accept me?" 
US Secretary of State John Kerry's peace proposals reportedly would force Israel to "earn" PA recognition as a Jewish state, by obligating itself through guarantees that it will not compromise the status of Israeli Arabs.
No action on Syria
On the topic of Syria's bloody civil war, now in its third year, the Arab League was notedly less unified.
Syrian opposition National Coalition chief Ahmed Jarba had asked for "sophisticated" weaponry from the Arab League at the start of the summit.
However, the statement reached by the summit was to "call for a political solution to the crisis in Syria based on the Geneva I communique," calling for a peaceful transition of power. While the summit condemned the human rights violations of Syrian President Bashar al-Assad, it refused to translate that condemnation into action.
AFP contributed to this report