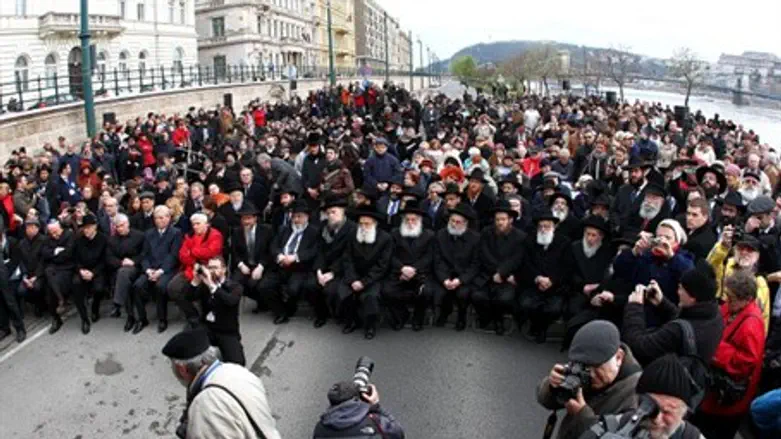 Holocaust memorial ceremony in Budapest
Yoel Blinko
Hundreds of rabbis from across Europe gathered on Monday in Budapest, Hungary, for a memorial ceremony marking the 70th anniversary of the murder of the Hungarian Jews by the Nazis.
The ceremony, organized by the Rabbinical Center of Europe (RCE) as part of its annual conference, took place on the banks of the Danube River at the "Shoes on the Danube Promenade" memorial.
The memorial shows 60 pairs of iron shoes, in commemoration of the victims of the Arrow Cross party, who were shot right into the river. The victims were forced to take their shoes off before being shot.
The ceremony was attended by Israel's Chief Rabbis, Rabbi Yitzchak Yosef and Rabbi David Lau, as well as by Deputy Minister for Religious Affairs, Rabbi Eli Ben-Dahan of the Jewish Home party. Members of the local Jewish communities and representatives of the Hungarian government were in attendance as well.
"Simply to have a memorial gathering or a slogan 'never again' is not enough, unless we are inspired with the same passion for strengthening the Jewish people as the murderers and the haters are inspired to destroy," said Rabbi David Moshe Liebermann, Chief Rabbi of the Shomre Hadas congregation in Antwerp, Belgium.
"So therefore, I say that the fact that we are together and our permanent determination to mobilize all our strengths to strengthen Jewish people and Jewish life in all its manifestations wherever possible - this way we'll become a source not only for positive goodness for our people, but for the whole world," he added.
A survey presented to the RCE's conference on Monday points to a slight decrease in the level of anti-Semitism in the country, even as the right-wing party Jobbik gains strength in Hungary.
In the survey, Hungarians were asked about their attitudes toward the country's Jews. The results were presented in a comprehensive study that analyzed the results based on various social cross-sections.
Among the questions asked was, "Do Jews have too much influence in Hungary today?" – to which 27% responded positively. A full 34% agreed that there is "a secret Jewish conspiracy behind political and economic processes."
Anti-Semitic incidents in Hungary in recent years include the country's chief rabbi being verbally abused on a Budapest street, anti-Semitic chants at a football match against Israel and pig's trotters being placed on a statue of Raoul Wallenberg, the Swedish diplomat who saved thousands of Budapest Jews in World War II.
Just several days ago, residents of the Jewish community in Tatabanya discovered that unknown vandals had desecrated the local Jewish cemetery.
The vandals spray-painted anti-Semitic graffiti on the tombstones, including swastikas and statements such as, "Smelly Jews" and, "The Holocaust didn't happen, but it will."
Hungarian Prime Minister Viktor Orban has pledged to fight anti-Semitism, which he said was "unacceptable and intolerable," but has been criticized for not doing enough.