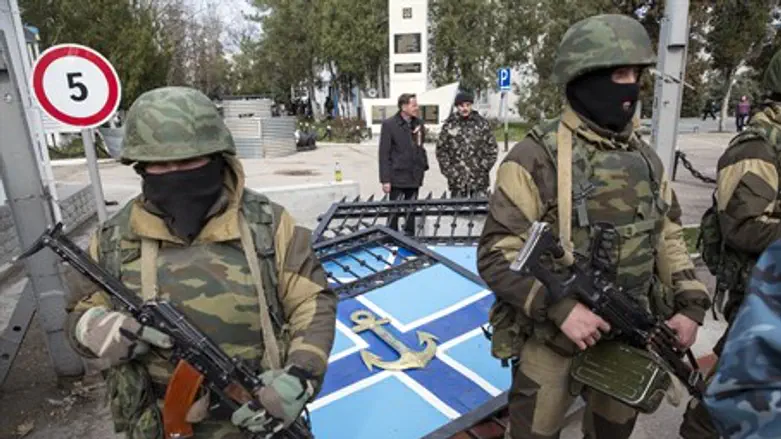 Pro-Russian gunmen stand guard after seizing
Reuters
Acting Ukrainian President Arseny Yatseniuk has reportedly given officials in the Crimea three hours to free Ukraine's navy chief, after pro-Russian militiamen detained him during a takeover of a naval base in the port city of Sevastopol.
Sergey Gaiduk was seized by the group of roughly 300 armed men, in an attack which came just one day after a Ukrainian soldier was killed and several others injured in a similar takeover of a military base in Simferopol, also by masked gunmen allied with Russia.
Marina Kanalyuk, assistant to the commander of Ukraine's navy fleet, told CNN that the scale of the takeovers indicated that Russian security forces were directly involved.
"They are everywhere here, they surround us, they threaten us," she said of pro-Russian militiamen.
Other Ukrainian servicemen were reportedly allowed to leave the base, though without their weapons.
The alarming escalation follows moves to formerly incorporate the Crimean Peninsula into the Russian Federation. Yesterday Crimean and Russian leaders signed a treaty to make the union official, after the results of a referendum seemed to show overwhelming support for the move.
However, the legitimacy of the plebiscite has been disputed by some western leaders, as well as by Kiev. Many members of Crimea's Tartar and Ukrainian minorities boycotted the vote.
The recent seizures of Ukrainian military bases threaten to push tensions to breaking point. Yesterday, Yatseniuk authorized Ukrainian troops to use their weapons in "self-defense", following the deadly attack in Simferopol.
Russia's official ITAR-Tass news agency reported that the militiamen involved in the latest takeover had passed the Ukrainian naval chief over to the Sevastopol prosecutor's office, who were questioning him to ascertain whether he had passed on those orders from Kiev to forces under his control.