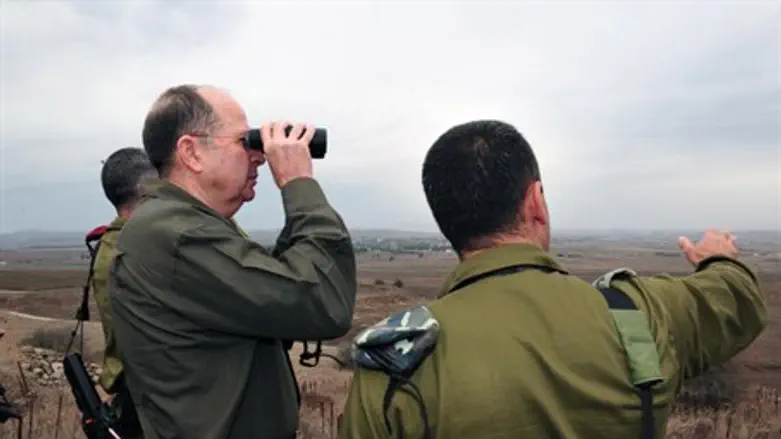 Moshe Ya'alon looks at Syria (file)
Flash 90
Defense Minister Moshe Ya'alon on Wednesday warned Syrian President Bashar Assad would "regret his actions" in threatening Israeli security, after the IAF conducted airstrikes on the Syrian side of the Golan Heights Tuesday night.
The IDF reports the strikes hit artillery batteries and a Syrian army training camp which had aided in the setting of an explosive on the Israeli-Lebanese border Tuesday, a terror attack that wounded four IDF soldiers.
"Last night IAF planes struck several Syrian army and defense targets, which made possible and aided yesterday's terror activities, in which an explosive was used against IDF forces patrolling Israeli territory, wounding four paratroopers," remarked Ya'alon.
The defense minister pointed the finger at Assad, saying "we see the Assad regime as responsible for what happens in its territory, and if it will continue to cooperate with terrorists striving to harm the state of Israel, we will continue to collect a heavy price from him, in such a way that he will regret his actions."
Sources in Hezbollah, the terror group fighting in Syria for Assad, revealed Tuesday that the attack was a failed kidnapping attempt targeting the soldiers.
"We will not allow any breach of our sovereignty or an attack on our soldiers and citizens, and will respond firmly and strongly against anyone who acts against us, at any time or place, as we did last night. Whoever tries to harm us bears responsibility for what happens to them," warned Ya'alon.
Prime Minister Binyamin Netanyahu on Tuesday stated that clashes on Israel's northern border are creating a "security challenge" for Israel.
"The border with Syria has recently become inundated with terrorists from Islamic Jihad and Hezbollah, and this has posed a security challenge for Israel. In recent years we have managed to ensure quiet as the civil war in Syria raged on. We will continue to ensure the security of Israelis," stated Netanyahu.