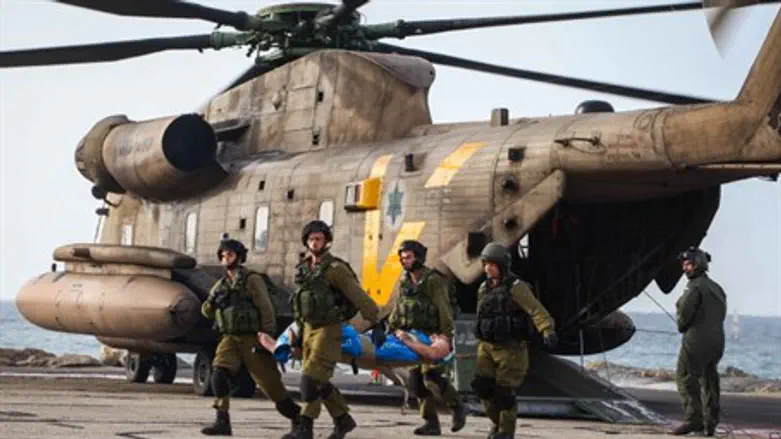 פינוי הפצועים
פלאש 90
Hezbollah sources said Tuesday that an explosion on the Golan Heights that injured three IDF soldiers had been an attempt to kidnap soldiers. The kidnapping attempt was reported by Al-Manar television, a Lebanese news outlet associated with Hezbollah. The reported quoted Hezbollah sources as saying that although the attempt failed "this time, we are sure we will succeed in the near future."
Reports said that the IDF was investigating whether the soldiers were injured when they got out of the jeep. The reports said that the soldiers had seen a suspicious figure, and had sought to capture him.
If accurate, the attack would have placed likely placed kidnapped IDF soldiers over the border, in Syria or Lebanon. Hezbollah terrorists would then have likely attempted to extort Israel for the soldier by demanding the release of masses of terrorists, as Hamas did when it kidnapped IDF soldier Gilad Shalit.
Israel Air Force planes opened fire on terror sites and army outposts in Syria, IDF officials said. The incident occurred near the border with Syria, outside the village of Majdal a-Shams. The injured soldiers were being treated at Rambam Hospital in Haifa, where they were airlifted by helicopter.
One of the soldiers was in serious condition, one was moderately injured, and the third sustained light injuries. A fourth soldier was being treated for shock, officials said.
In a statement Tuesday, Prime Minister Binyamin Netanyahu said that Israel's northern border was heating up, creating a "security challenge" for Israel. "My sympathies and support are with the families of the injured," Netanyahu said. "The border with Syria has recently become inundated with terrorists from Islamic Jihad and Hezbollah, and this has posed a security challenge for Israel. In recent years we have managed to ensure quiet as the civil war in Syria raged on. We will continue to ensure the security of Israelis," the statement said.