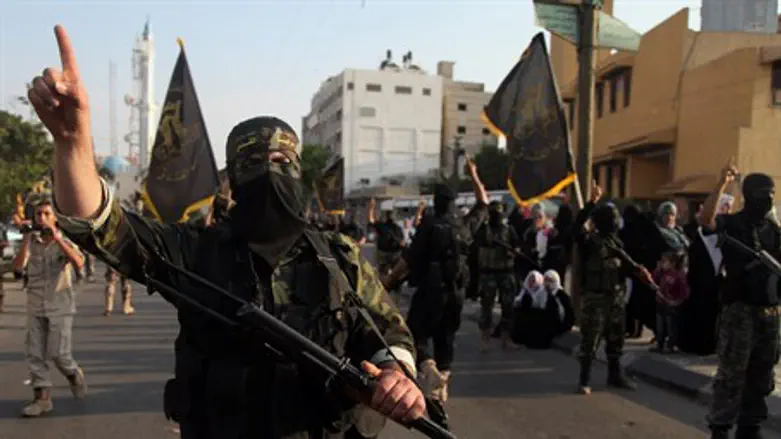 Al Qassam terrorists in Gaza
Flash 90
Israel must not release arch-terrorist Marwan Barghouti for the sake of negotiations with the Palestinian Authority (PA), Transportation Minister Yisrael Katz warned Sunday. Barghouti is serving five life sentences in an Israeli prison for multiple murders.
According to reports in the PA media, PA Chairman Mahmoud Abbas is planning to demand Barghouti's freedom as one of his conditions for continuing talks with Israel.
"Abu Mazen [Abbas] will stand in the White House today and demand the release of Barghouti and other terrorists in exchange for continuing the talks. Israel needs to respond in just one word: no," Katz declared in a post to Facebook.
"Barghouti is a cowardly mass murderer who sent 'shaheeds' to blow themselves up among innocent civilians during the Second Intifada," Katz recalled. "He should rot in jail until he dies."
"I plan to act against terrorist release," he declared. It was a "mistake" for the government to agree to free terrorist murderers in order to bring the PA to the negotiating table, he added.
"It would be moral bankruptcy to free Barghouti and his friends in exchange for continuing talks," he argued.
The PA has more to lose from ending talks than Israel does, he implied. "Abbas is like that man in the joke, he's threatening to go to bed hungry. So go to bed hungry," he wrote.
Abbas is reportedly planning to demand the release of Barghouti and other terrorists, and a full freeze on Israeli construction east of the 1949 armistice line, in exchange for continuing the talks. He remains unwilling to recognize Israel as a Jewish state.
Abbas may be under political pressure to seek Barghouti's release. Barghouti is widely perceived as a popular choice to replace Abbas, whose term in office expired several years ago.
Israel previously agreed to release over 100 terrorists, including those responsible for some of the most vicious murders of the pre-Oslo years, as a gesture to the PA.