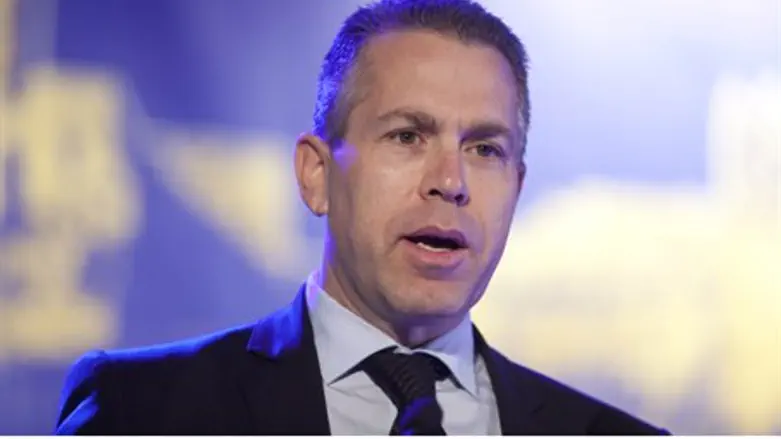 Minister Gilad Erdan
Flash 90
U.S. Secretary of State John Kerry is pressuring the wrong side in the Israeli-Arab conflict, Home Front Defense Minister and Communications Minister Gilad Erdan (Likud) said on Saturday night.
Erdan was responding to Kerry's comments from late last week, when he said that Israel was making "a mistake" by continuing to demand that the Palestinian Authority (PA) recognize it as a Jewish state in order to achieve peace.
"It is unfortunate that ahead of the Abbas-Obama meeting, Kerry makes a misake and once again pressures the wrong side," said Erdan.
"The Secretary of State should ask Abbas why he refuses to recognize the Jewish state? It is obvious that reason is that the Palestinians want to bring up more demands in the future, even if an agreement is signed, and are not interested in ending the conflict," he added.
Prime Minister Binyamin Netanyahu has insisted that the PA recognize Israel as a Jewish state in order to reach a peace agreement, explaining that the Arabs' refusal to recognize Israel stands at the heart of the conflict.
PA Chairman Mahmoud Abbas has repeatedly insisted that the PA would not recognize Israel as a Jewish state and has also stressed that the future Palestinian state would not include the presence of a single Israeli – civilian or soldier.
He stood his ground last Friday, saying during a meeting with Fatah youth activists that that there is "no way" he will recognize Israel as a Jewish state and accept a Palestinian capital in just a portion of eastern Jerusalem.
Kerry's statement that Israel was making a mistake in demanding recognition as a Jewish state was slammed by several Israeli ministers on Friday. They suggested that Kerry should condemn the constant rocket fire from Gaza instead.