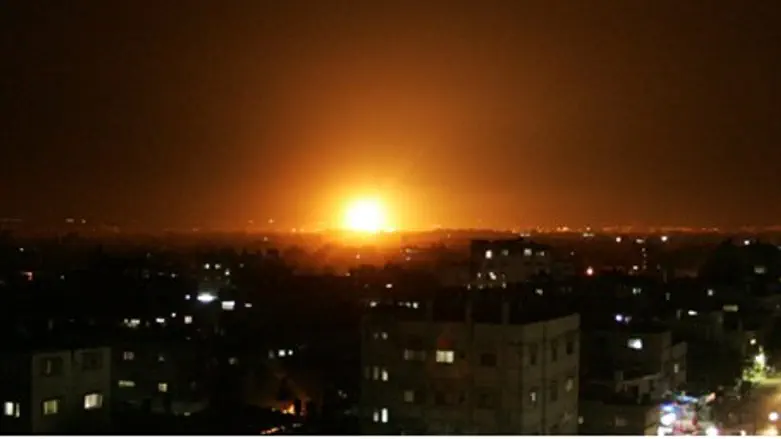 IAF airstrike in Gaza (archive)
Flash 90
The Israeli Air Force struck 29 terror targets belonging to Islamic Jihad and Hamas in Gaza on Wednesday evening as retaliation for firing a barrage of over 60 rockets on Jewish communities in southern Israel, the IDF announced Wednesday. 
Palestinian Arab media is reporting now that the IAF are repeatedly slamming Islamic Jihad posts in Rafah, Khan Younis, Deir al - Balah, Beit Lahiya in north Gaza and another target in the center. Hamas's military wing is also being targeted. No casualties have been reported yet. 
The entire operation, which was launched at 10 pm Wednesday Israel time, was quick and hard. The IDF announcement stating that the operation focused on the 29 targets also noted just 45 minutes after the fact that all IAF pilots had returned safely to base after completing their mission. 
The IDF also noted that while Islamic Jihad claimed responsibility for the rocket fire, Hamas's control on the region renders them responsible for preventing escalation and terror activity. 
Earlier Wednesday, Hamas officials blamed Israel for the rocket fire on its own citizens, claiming "resistance is the right of the Palestinian people." 
"We hold the occupation responsible, we warn of the consequences of any escalation and we reiterate that resistance is the right of the Palestinian people to defend itself," AFP quoted Hamas spokesman Ihab al-Ghassin as saying Wednesday evening. Al-Ghassin, like Islamic Jihad, referred to the fact that the rocket fire itself was apparently a response to IAF counterterrorism measures on Tuesday against previous rocket fire. 
IDF tanks fired at terror targets from the border earlier Wednesday, after Defense Minister Moshe Ya'alon warned that the barrage would not go unnoticed. Of the three targets eliminated, two were in southern Gaza and one was in the North. 
"We will not ignore the barrage of rocket fire tonight," Ya'alon stated. "We will not allow Islamic Jihad or any other entity in the Gaza Strip to disrupt the lives of Israeli citizens."
Ya'alon continued: "when there is no quiet in the south, we will not allow Gaza to have quiet either - to make Islamic Jihad terrorists regret their rocket fire."