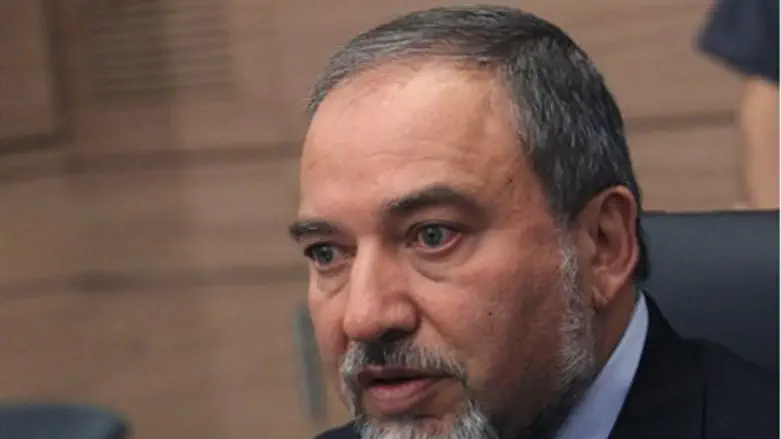 Avigdor Liberman
Flash 90
Responding to the onslaught of
more than 60 rockets
fired by Islamic Jihad terrorists from the Gaza Strip this evening, Foreign Minister Avigdor Liberman has said that any Israeli response must include the retaking of Gaza, according to
AFP
.
The comments were made in an interview with Israel's Channel Two.
"Following an attack like this - a barrage of more than 50 rockets -there is no alternative to a full reoccupation of the entire Gaza Strip," hesaid.
Immediately following the initial barrage - which was claimed by Islamic Jihad - Prime Minister Binyamin Netanyahu threatened a "forceful" response against those responsible.
In the last few minutes Israeli tanks clashed with terrorists in Gaza, destroying two unspecified "terror targets".
Israel withdrew from Gaza in the 2005 "Disengagement Plan", which saw the withdrawal of all IDF positions and the destruction of all Jewish communities in the territory, along with the forced expulsion of the roughly 9,000 Jews living there. At the time, right-wing leaders had warned the withdrawal would worsen, rather than improve Israel's security situation, and that troops would simply have to return to curb rocket-fire against nearby Israeli communities - a stance largely vindicated by the subsequent spike in rocket attacks following the seizure of the territory by Hamas, which prompted two separate counterterrorism operations.
The Deputy Chief of IDF Staff, the Head of Military Intelligence, and the Air Force Commander of the Southern Command are currently in an urgent meeting to asses the situation. IDF Chief of Staff Benny Gantz is reportedly being updated in the US as events unfold.