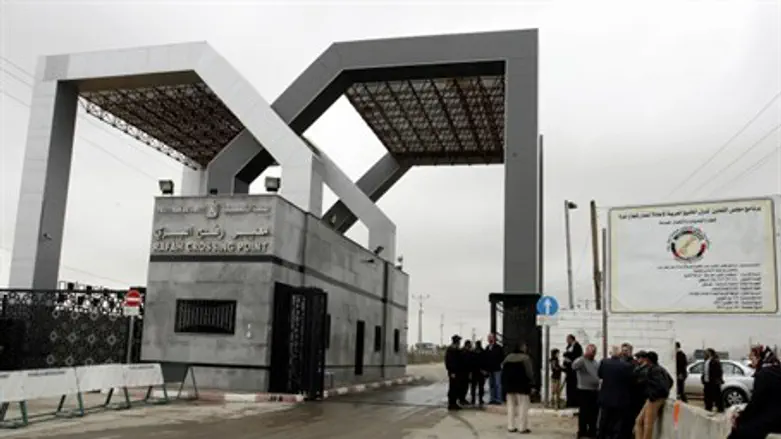 Rafah crossing point, between Egypt and Gaza
Flash90
The European Union has blamed Israel for Gaza's "humanitarian situation" threatens the Middle East's security on Tuesday, and could have "serious consequences" for regional stability, according to AFP. 
EU consuls-general in Ramallah and Jerusalem urged Israel to ease access restrictions to Gaza, especially in light of Egypt's ongoing blockade. 
"Today, Gaza is facing a dangerous and pressing humanitarian and economic situation... (including) the cessation of imports of construction materials; rising unemployment, rising prices and increased food insecurity," the report said.
"If left unaddressed, the situation could have serious consequences for stability in Gaza, for security more widely in the region as well as for the peace process itself," it said, referring to ongoing US-backed Israeli-Palestinian talks.
"Israel bears the prime responsibility for the situation in Gaza," it fired, claiming that it - not the Egyptian crackdown on Hamas terror - "further deterioration of the humanitarian situation and of the economic and social conditions."
The report highlighted the economic damage, which it claims stems both from Israel's continuous protection along the Gaza-Israel border and Egypt's destruction of the terror and arms smuggling tunnels providing Hamas with supplies. 
"For several years, these tunnels kept Gaza's economy afloat... accounting for more than 80 percent of Gaza's supply of construction materials, medical supplies, food, and other goods," it said. The resulting lack of fuel has led to up to 16 hours per day of power outages in the coastal enclave of some 1.7 million people.
The issue of energy resources is of particular concern in Gaza, as an Egyptian siege ended the smuggling of illegal fuel into the Hamas enclave, and last November set off an energy crisis with daily power cuts of up to 12 hours.
Israel for its part has enforced a blockade on Gaza since 2006 according to international law, given that Hamas is a recognized terrorist organization. Nevertheless, Israel has allowed fuel into Gaza through the border crossing, and reportedly agreed to increase its supply of electricity to Gaza in January by an extra 100 megawatts - a point the EU report ignored. 
Hamas was bailed out after the November energy crisis by fuel bought from Israel by the Palestinian Authority (PA), on funds supplied by Qatar. The Hamas 2014 budget features a $589 million deficit.
The report also called on Hamas and Fatah to reunite, claiming the unity would give "the Palestinian cause" more legitimacy. This, it said, is Hamas's fault - for using terrorism to gain political power. 
"If Hamas would completely renounce its use of violence to achieve its objectives, it would have a revolutionary impact on the entire situation in Gaza, which would enable them to promote the very necessary process of a reconciliation with Fatah (PLO)," the report noted, as quoted by Ha'aretz.