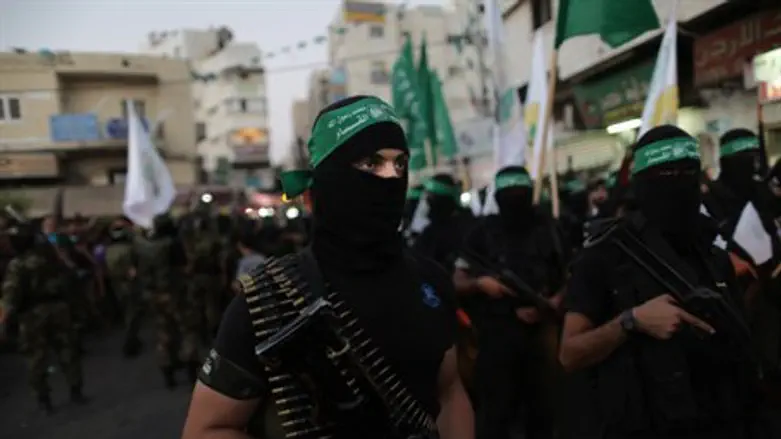 Hamas terrorists in Gaza
Flash 90
Former FBI Counterterrorism expert John Guandolo, known for his controversial calls for Americans to "expose Al Qaeda agents" in their neighborhoods, has reiterated his calls to the public to pressure officials to prosecute the Council on American-Islamic Relations (CAIR) for supporting terrorism.
In an interview with Arutz Sheva, the author of the book explained how CAIR - which claims to be a "civil liberties" organization representing moderate Muslims in the US - was established by Islamist leaders closely linked to the radical Muslim Brotherhood, of which Hamas is an offshoot. The organization was set up specifically to provide propaganda and other forms of nonviolent support for Hamas, which is a designated terrorist group in the US.
The Brotherhood first established a presence in the US in the 1950s, and by the 1960s had set up several front groups, including the US-Palestine Committee. Guandolo describes how the FBI documented a key meeting of the Committee in 1993 at which the two men who would later found CAIR - Omar Ahmad and Nihad Awad - were present.
At the meeting, "those two men specifically discussed with other Hamas leaders creating a public relations front for Hamas that wasn't affiliated with Hamas," Guandolo relates, "and less than a year later CAIR is created in Washington D.C."  
Since then, he says, CAIR has actively supported Hamas in the US, and should qualify for prosecution for providing material support to a terrorist group as a result.
He points out that the organization is among several "unindicted conspirators" in the 15-year investigation surrounding the Holy Land Foundation, which in 2001 was shut down after being designated as a terrorist organization by the US government.
Faced with the evidence, Guandolo says he can't understand why the group is still operating legally.
"The question we as Americans need to be asking is: 'Why is this Attorney General and Department of Justice not indicting and prosecuting CAIR and its leaders?'"