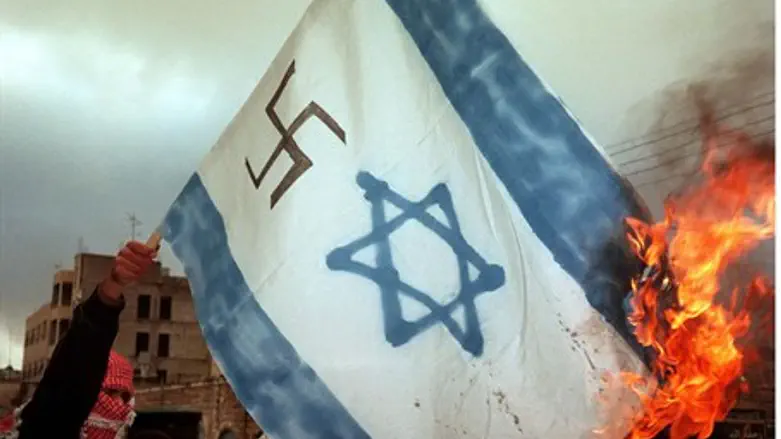 Anti-Israel demonstration (illustration)
Reuters
Anti-Zionist activist Max Blumenthal has hailed the new "Open Hillel" movement, which pressures Hillel Jewish student groups to host anti-Israel events, as a way to "liberate young Jews from the vice grip of Zionism."
The organization Open Hillel began in late 2012 according to its website, with a goal of forcing change in Hillel International's guidelines. The group was troubled by how the guidelines bar partnership with speakers or groups denying Israel's right to exist or attempting to delegitmize the Jewish state. Last December, the group successfully turned Swarthmore College's local Hillel into an anti-Zionist Open Hillel.
Speaking at Brandeis University last Monday, Blumenthal called Open Hillel "an organic movement on campuses…which I consider to be a movement to liberate young Jews, from the vice grip of Zionism, which is imposing a line of thinking upon them that shuns critical inquiry."
Blumenthal has compared Israel with the Nazi Third Reich in his book "Goliath," which has been widely criticized as a "propaganda tract" for anti-Semitism, reports the Washington Free Beacon.
The anti-Zionist activist's father, Sidney Blumenthal, is a close confidante to former US President Bill Clinton, co-initiator of the 1993 Oslo Accords, and his wife Hillary. Blumenthal actively promoted his son's book through e-mail campaigns to attack critics and by holding promotional events.
Jewish Voice for Peace (JVP) is one of the anti-Zionist groups Open Hillel is trying to force on Hillel university students. Last July, NGO Monitor released a report detailing the goals, tactics, and opaque financing of JVP, showing how the advocacy organization is dedicated to driving "a wedge" within the Jewish community to create the impression that the Jewish community is polarized over Israel.
The attacks on Hillel for not being "inclusive" of Israel defamers brings to mind criticism by leftist New York Jews against the city's mayor Bill de Blasio in February.
In an open letter sent by 58 Jewish leftist leaders, de Blasio was condemned for saying at an AIPAC meeting in January that "City Hall will always be open to AIPAC. When you need me to stand by you in Washington or anywhere, I will answer the call and I'll answer it happily 'cause that's my job."
The leftists denounced the statement, saying "AIPAC speaks for Israel's hard-line government and its right-wing supporters, and for them alone; it does not speak for us."