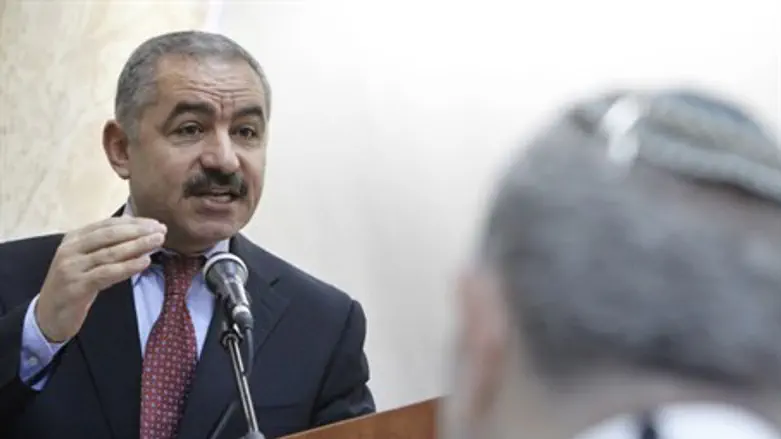 Mohammed Shtayyeh
Flash 90
A close aid to Palestinian Authority (PA) Chairman Mahmoud Abbas said on Thursday that the gaps between Israeli and PA negotiators only have widened in seven months of talks.
Quoted by The Associated Press (AP), Mohammed Shtayyeh said an extension of talks appears unlikely after what is bound to be a missed April 29 deadline for a framework deal.
"What we have seen in the talks is that the gap is growing, rather than narrowing," Shtayyeh was quoted as having told foreign diplomats and representatives of international organizations.
Shtayyeh was one of the negotiators who submitted his resignation to Abbas in November, in what was an act of protest against Israel's announcement that it would build new homes in Judea and Samaria.
He also said, according to AP, that the biggest obstacle for the PA is Netanyahu's demand that it accept Israel as a Jewish state.
Abbas cannot "under any circumstances" recognize Israel as a Jewish state because this would restrict the return options of "Palestinian refugees" and potentially pave the way for a gradual expulsion of Israel's large Arab minority, claimed Shtayyeh.
He further said he believes it would be pointless to extend talks, as U.S. Secretary of State John Kerry has suggested, because there is no common ground.
"We don't have terms of reference ... which means we and the Israelis are reading from different books," said Shtayyeh, according to AP.
Earlier this week, Abbas continued to impose preconditions on peace talks, this time telling MK Zehava Galon (Meretz) that he "will put the keys on the table and turn to international organizations" if Israel does not freeze construction in Judea and Samaria.
This is not the first that Abbas has imposed preconditions on talks with Israel and threatened that unless all these preconditions are met, there will be no peace.
Foreign Minister Avigdor Liberman said Thursday that it was the PA that was preventing progress on talks to formulate the negotiation framework being developed by Kerry.
Speaking to Kol Yisrael radio, Liberman declared that "the Palestinians are the ones that are stalling the talks by making demands that are not legitimate."
"Israel will not agree to any conditions for the continuation of the talks," he stressed.
Meanwhile on Thursday, the PA's Al-Quds newspaper reported that Israeli and PA leaders have received copies of Kerry's framework, of which few details have been made public.