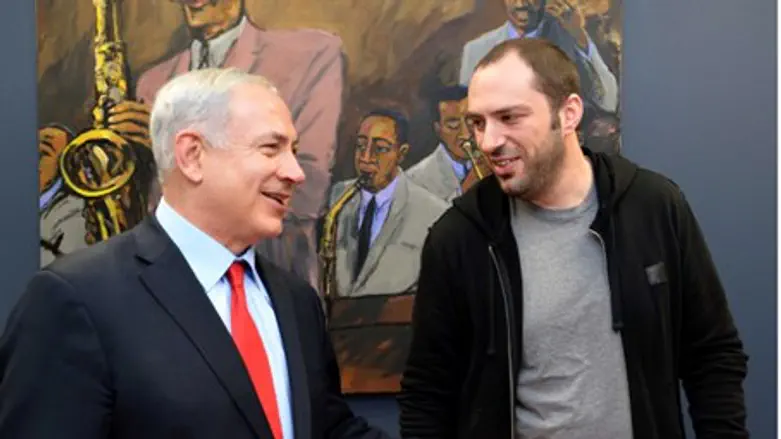 Binyamin Netanyahu with WhatsApp founder Jan
Flash 90
In his visit to the US this week, Prime Minister Binyamin Netanyahu signed a key cooperation agreement with the state of California on Wednesday. While in the state, he also stopped at the famous hi-tech center of Silicon Valley to promote investments in the Israeli hi-tech industry.
Netanyahu signed the agreement with California GovernorJerry Brown, in an effort to promote economic relations between the Jewish state and the "golden state."
"The best brains in the world are in silicon valley and in silicon wadi (valley), many of them speak Hebrew, but we need to get them to fly back and forth," remarked Netanyahu after the signing.
The prime minister proceeded to call for a direct airline route between San Francisco and Tel Aviv to advance cooperation, in an air route he called "the line of innovation" linking "the most powerful hubs of innovation on the planet." Netanyahu expressed his hopes that such a linkage could be solidified by the agreement.
Netanyahu added that Israel, even with its desert climate, has no water problem, an amazing fact given that rainfall in the country is down 50% since its founding, the population gone up 10 times and the GDP 70 times, all of which affects water consumption.
The reason behind Israel's feat is that the state is the number one recycler of water in the world, according to Netanyahu, and its technological solutions such as drip irrigation and desalinization can help California overcome its water problem. He noted solar energy and cyber-security as other key points of cooperation.
Also in attendance at the meeting with between Netanyahu and Brown were Flextronics CEO Mike McNamara and YouTube CEO Susan Wojcicki. Netanyahu called on the American technological leaders to invest in Israel's booming technological industry.
Discussing cyber-security with WhatsApp
At Silicon Valley, Netanyahu met Jan Koum and Brian Acton, co-founders of WhatsApp. Their program is a cross-platform mobile application allowing users to exchange messages without having to pay telecom charges.
In the meeting, Netanyahu emphasized the need for security in the cyber-world, as the three discussed cyber protection technologies that have been developed in Israel
Just two weeks ago Koum sold his company to Facebook for the astronomical sum of $19 billion. Koum, a Ukrainian-born Jew, immigrated to America where he became an orphan at a young age, but nevertheless was able to pull himself up through the world of technology.
While in Silicon Valley, Netanyahu also took a stop at Apple Inc.'s headquarters to further strengthen ties with Israel.
Meeting with Apple CEO Tim Cook, Netanyahu was briefed on Apple's activities in the Jewish state, which have grown exponentially since starting two and a half years ago. Last February the technology giant opened its third research and development center in Israel. 
Netanyahu took the opportunity to invite Cook to visit Israel, and raised a proposal that Apple open a new development center in the Be'er Sheva national cyber park. 
Apple's iPhone 5 has been selling at a rapid pace in Israel since its local release last November.