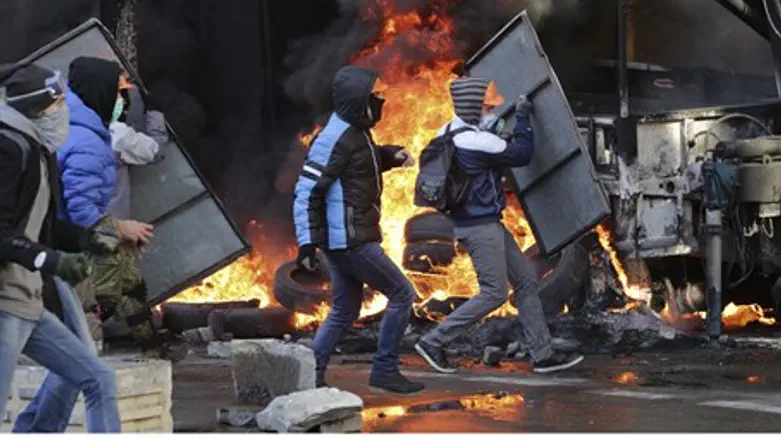 Ukraine violence
Reuters
Finnish European Parliament Member Hannu Takkula released a statement Thursday condemning Ukraine for ignoring the anti-Semitism fomenting there. 
"One of the shadows clouding over the future of Ukraine is [the] strong position enjoyed there by the extreme nationalistic movements," Takkula's office released in a statement Thursday. "These movements are escalating, among other things, anti-Semitism and xenophobia. The minorities living in Ukraine are deeply concerned for their safety." 
Takkula himself officially called on the EU Thursday to hold the potential member state responsible for its crimes against Jews and other minority groups.
"The officials in Ukraine have to intervene [in light of] cases of anti-Semitic speeches, graffities, and attacks on synagogues," Takkula stated. "[The] EU also should keep this as a condition for our signing future association and trade agreements with Ukraine.  We can discuss the long-term goal of Ukraine joining the EU only when the country's minorities will be subject to the complete protection there guaranteed by the law." 
Analysts have claimed over the past several hours that the new interim government in Ukraine is pro-EU and is pushing for the country to become a member state. Reuters reports Friday that Ukraine's Finance Ministry has already asked for some $4 billion dollars in immediate aid from the international body as a relief package in light of the recent unrest.  
Recent reports indicated that extremists have been targeting the Jewish community in Ukraine, including a member of the opposition. A synagogue was firebombed earlier this week by unknown assailants in the embattled country.
At least one MK, Yesh Atid MK Rina Frankel, has already called on Prime Minister Binyamin Netanyahu to launch an emergency Aliyah operation to bring Ukrainian Jewry to safety as a result of the unrest. 
The Rabbi of the city of Kharkov, Rabbi Moshe Moskowitz, told Arutz Sheva on Sunday that a number of local Jews have already expressed a desire to leave Ukraine and emigrate to Israel. The unrest of recent month is what has brought this desire to the fore, he said. 
Anti-Semitism in Ukraine has picked up throughout the unrest, which began in late November. In January, unknown assailants stabbed a hareidi man in Kiev as he was making his way home from synagogue on a Friday night. Several weeks ago, anti-Semitic graffiti was sprayed on a Holocaust memorial in the city of Alexandria.