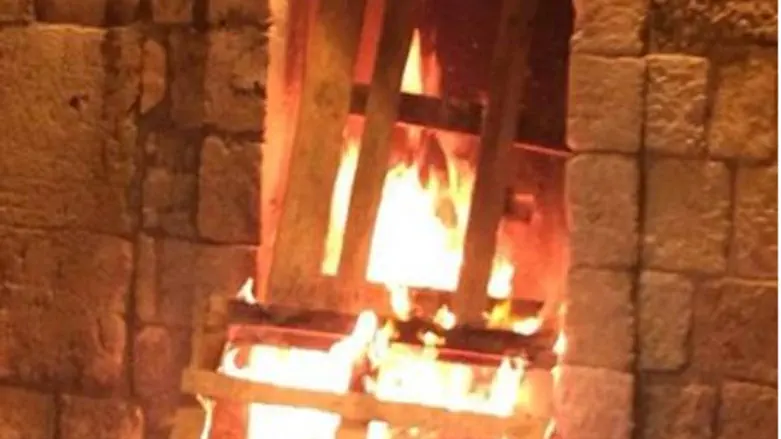 Police station burned in Jerusalem
Aryeh King
Jerusalem Arabs set ablaze a police station next to the Lions' Gate in the capital's Old City on Wednesday.
Aryeh King, nationalist Jerusalem city councilman and member of the municipality's Emergency and Security Committee, was present at the scene of the attack and managed to document it. According to King, instead of stopping the attackers, police officers fled the scene.
"Unfortunately the prime minister is instructing the authorities to avoid eastern Jerusalem, and these are the results," charged King.
"Last night the funeral of a terrorist was held there, they marched from the Mount of Olives towards the Lions' Gate attacking everything in their path and didn't let Jews pass," reported King. He adds that once the group arrived at Lions' Gate they burned the police station.
King, who lives in Maaleh Zeitim on the Mount of Olives, noted that the incident merely highlights an endemic failure of the capital's security.
"The security in eastern Jerusalem is abandoned, women don't dare go to the mikveh (ritual bath) in Armon Hanatziv, in Park Hamesilah next to Beit Tzafafa people are robbed in broad daylight," commented King.
The Jerusalem councilman added that Arab residents "build wherever they want," without enforcement of the building laws.
As for reports that US Secretary of State John Kerry wants to create an Arab capital for the Palestinian Authority (PA) by dividing Jerusalem, King called the proposal "a delusional step that testifies as to how disconnected he is."
"After all, the light rail passes through Beit Hanina, so suddenly the train will pass in a different country?" questioned King. "There are tens of thousands of Jews there, in the adjacent Nave Ya'akov, in Pisgat Ze'ev and also in Beit Hanina."
"The Americans are disconnected from reality," charged King. "Don't they understand the Arabs don't want eastern Jerusalem? They want all of Jerusalem."
King ran for the Knesset in the last elections on Otzma Leyisrael's list, which just fell short of entering the Knesset.