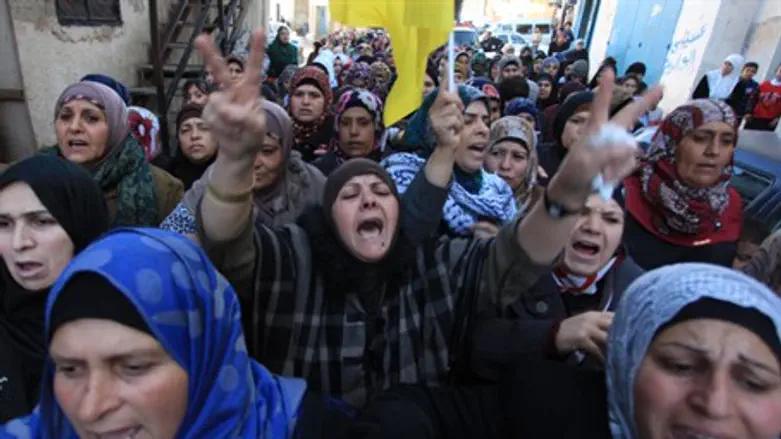 PA women
Flash 90
A senior official in the Palestinian Authority (PA) Ministry of Women's Affairs has reported a rise of over 100% in the number of "honor killings" in 2013 compared to the previous year. The murder of women for tarnishing the "family honor" is still protected under PA law.
The official, Nabila Rizq, was referenced in the official PA media earlier in the month reporting the number of "honor killing" victims for 2013 at 27, compared to 13 the year before. Victims are typically guilty of "crimes" including such things as pre-marital sex, being raped or refusing an arranged marriage.
The report, which was translated by Palestinian Media Watch (PMW), added that Rizq blamed the legal loophole which lets murderers off with a reduced sentence if they claimed their crime was motivated by "family honor," a loophole PA Chairman Mahmoud Abbas was requested to change three years ago.
Indeed, Abbas promised to remove the legal preferential treatment of "honor killings" back in 2011, although revelations in 2012 exposed that he had no intentions of changing the law. Abbas's aides made clear at the time the move was meant not to offend Islamic conservatives and risk losing control.
PMW notes that PA law on the issue is drawn from the Jordanian legal system. Article 98 of Jordanian Penal Act 16 states perpetrators "shall be liable to a lesser penalty" for crimes they committed in "a state of great anger" following "a wrongful and dangerous act on the part of the victim," an act left undefined.
Further, the report in the PA media about Rizq's comments noted the real reason behind some of the "honor killings" was actually to silence women seeking their proper inheritance. 
"Honor killings" have generally been on the rise in the PA; 29 women were killed in the four years up through 2010, but nearly the same number were murdered in the following year and a half.
In contrast to the PA ambivalence, a member of the Hamas "parliament," Dr. Yunis Al-Astal, spoke out strongly against "honor killings" this week, saying the killing is worse than the affront to the "family honor" that sparked the murder.