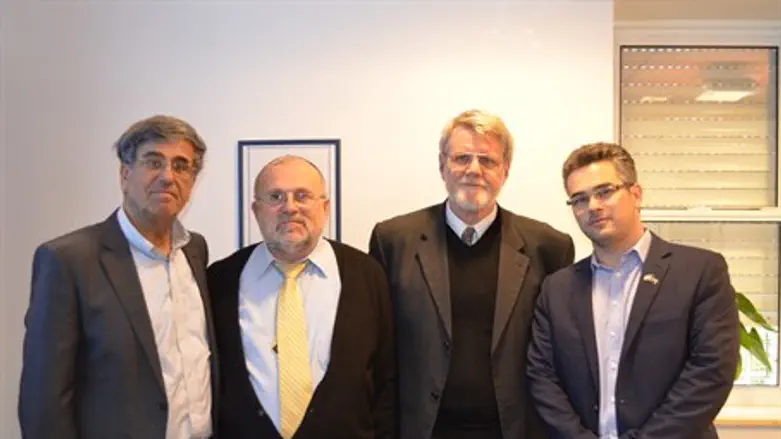 The MKs meet with JCT officials
Photo: JCT
In order to encourage the hareidi public to get an education, Israeli colleges and universities should design programs specifically for them, said MK Boaz Toporovsky (Yesh Atid), who chairs the Knesset's Higher Education Caucus. Toporovsky made the comments when both he and MK Shimon Ohayon (Likud-Beiteinu) visited the campus of the Jerusalem Technical College (Machon Lev campus).
The two were given a tour of the campus, and heard about the different programs and degree tracks for students at the College. They also spoke to students to get a better idea of what campus life is like.
JCT has been attempting to enact several programs, such as one to train paramedics. School administrators appealed to the MKs for help in overcoming the bureaucratic hurdles that prevented establishing the programs.
JCT has a significant religious and hareidi student population, something the MKs said they were not aware of. The MKs said they would work to expand those programs, both at JCT and elsewhere.
"We were very impressed by several things," Tovrovsky said. "JCT has some very rich programs for hareidi men and women. We see a great value in integrating the hareidi population in Israel's economy and expanding the number of hareidi Israelis in the workforce. Administrators presented several important issues that we are committed to helping resolve. The hareidi population is hungry for education and we must do much more to satisfy this hunger."