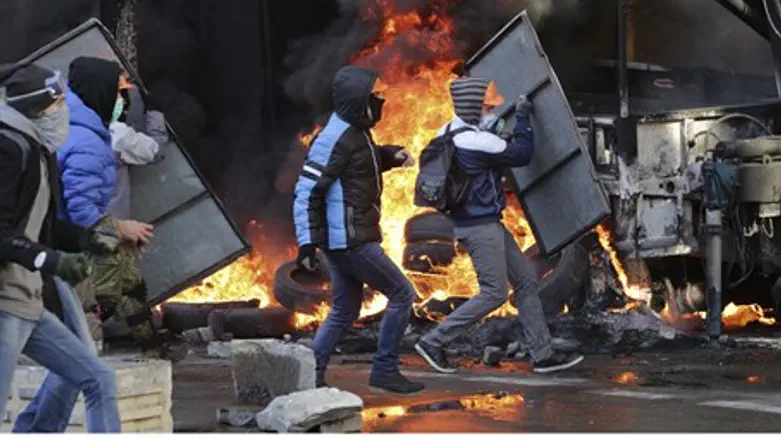 Ukraine violence
Reuters
In the wake of the recent unrest in Ukraine, Jewish residents of Kiev have received threats by anti-Semites in recent days.
Arutz Sheva's Russian-language website reported on Friday that Jewish Ukrainians were threatened by local extremists that they would be harmed.
Local authorities have been made aware of these threats, the report said.
In recent days, some of the protesters reached Jewish areas of Kiev and vandalized shops. It was also reported that many residents are leaving the city because of the unrest, that has completely shut down Kiev's transportation system and businesses.
Even before the recent unrest, Jews in the Ukraine have been the targets of anti-Semitic acts.
In January, unknown assailants stabbed a hareidi man in Kiev as he was making his way home from synagogue on a Friday night.
Last year, the president of the All-Ukrainian Jewish Congress narrowly escaped with his life after a bomb was hurled at his car as it pulled out from an office.
In the wake of the anti-Semitism, local Jews have been careful not to wear a kippah in public and security has increased at Jewish institutions in the city.
Meanwhile, Ukraine's leader and opposition on Friday signed a deal to end the country's crisis, after three days of carnage left nearly 100 protesters dead.
(Arutz Sheva's North American Desk is keeping you updated until the start of Shabbat in New York. The time posted automatically on all Arutz Sheva articles, however, is Israeli time.)