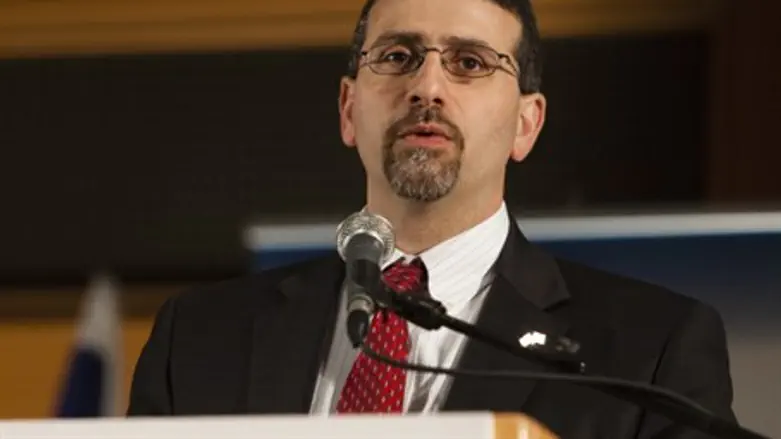 Dan Shapiro
Flash90
US Ambassador to Israel Dan Shapiro declared Friday that the Palestinian Authority (PA) will be obligated to recognize Israel as a Jewish state under the US framework agreement - despite the PA's ongoing defiance over the issue. 
"[The PA] recognizing Israel as Jewish state is a key sign that the conflict is ending," Shapiro stated on Reshet Bet radio. "The United States has always believed that Israel is a Jewish state and that it should stay that way." 
He said the two sides will have to make significant decisions, as he put it, and to discuss among other things the question of what will be the fate of the communities in Judea and Samaria. Shapiro noted that "there are several options we can take on the issue" and declined to elaborate further. 
"The US knows that there are people in the government and the Knesset who oppose the idea of two states, but Prime Minister Binyamin Netanyahu promised to resolve this, and the majority of the people are behind him," Shapiro added. 
The PA has already formally refused to recognize Israel as a Jewish state, stating that "the Arab states will never recognize a Jewish state."
The PA has also charged Israel of "imposing its agenda" on peace talks by raising the issue of Israel's Jewishness, even as US proposed deals would reportedly force Israel to obligate itself through guarantees that it will not compromise the status of Israeli Arabs, and in doing so begin "earning" PA recognition of Israel as the state of the Jews.
Despite this, the US has remained stubbornly optimistic over talks. On Thursday, the US State Department claimed that they have been "narrowing the gaps between sides" just before US Secretary of State John Kerry met with PA Chairman Mahmoud Abbas. While the full results of the meeting were not published, reports surfaced hours later that PA representatives in Ramallah declared that a framework agreement could only be on their own terms.