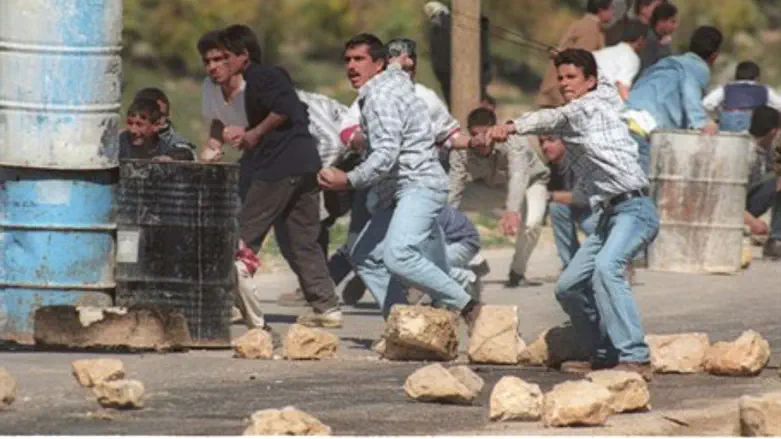 (Illustration) Arab rioters
Flash 90
Two students at a pre-military yeshiva have created a successful project to give real-time information to residents of Judea and Samaria (Shomron).
Benji Strol and Yerachmiel (Yerach) Raf began the "Yosh Updates" project one year ago. Today, the online initiative has over 2,200 fans, a Twitter account, a website and even an Android app.
The two young students combine information from several sources – including the Tatzpit news feed, MDA paramedics, firefighters, and local security guards – to provide thorough, up-to-date reporting on issues relating to security, crime, and traffic in Judea and Samaria.
Those who follow their service can get updates on a range of issues, including  terrorist attacks, traffic accidents, blocked roads, home invasions, and demonstrations or other events expected to disrupt the flow of traffic.
Updates continue throughout the day. Raf noted that in the midst of an event at their yeshiva in which they explained their initiative, the pair found themselves sending out an update about a recent incident.
"There are organizations doing great work, important work," he said. "But there's still something missing. We're working to fix that, to keep residents of Judea and Samaria updated regarding everything that's going on."
He added, "The difference between us and all the other news services is the connection to residents, and the desire to provide a helpful service within Judea and Samaria, not to create headlines."