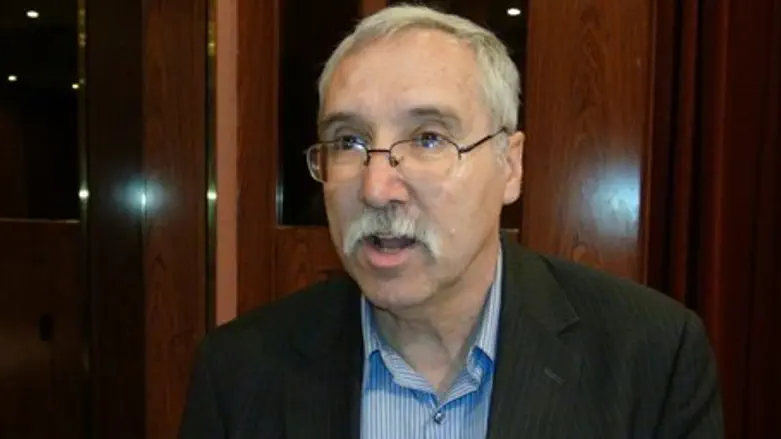 Prof. Gerald Steinberg
Yoni Kempinski
At a parliamentary session on Monday, under the auspices of the European Union Delegation for Relations with Israel, the NGO Monitor group launched a new report on EU funding for political advocacy NGOs in the Arab-Israeli conflict.
Prof. Gerald Steinberg, President of NGO Monitor, and Jody Sieradzki, head of NGO Monitor's Europe research, presented the findings, saying, "NGO Monitor's research documents major failures in EU policy and process. EU initiatives that claim to promote peace, human rights, democracy, and other moral values have become instruments for the immoral objectives of anti-Israeli political warfare."
NGO Monitor has been actively exposing how foreign states are meddling in Israel's affairs by funding radical leftist NGOs.
Prof. Steinberg and Sieradzki are in Brussels for a three-day series of high-level meetings with European and Belgian officials. The main issue on the agenda is the need for a wide-ranging public debate, including hearings in the European Parliament, to facilitate policies that will end the secrecy with which European frameworks allocate funding to political NGOs.
There is also a need for transparent, independent, and professional evaluation of EU allocations to NGOs, and agreed-upon guidelines on the appropriate uses of taxpayer funds. Steinberg and Sieradzki will present recommendations to create a joint committee with Israeli MKs in order to develop guidelines on EU funding for Israeli NGOs.
During Monday's session, Prof. Steinberg discussed the EU's highly disproportionate funding for NGOs active in the Arab-Israeli conflict through the European Instrument for Democracy and Human Rights (EIDHR).
As shown in NGO Monitor's new study, in 2007-2010 (the last available data), NGOs in Israel and the Palestinian Authority received over 11 million Euros through EIDHR, 57% of EIDHR funding directed at the Middle East, while projects in Syria, Iraq, Iran, Oman, Saudi Arabia, and the UAE are largely ignored by EU frameworks such as EIDHR.
NGO Monitor's analysis of the EIDHR projects demonstrates a fundamental distortion in the EU's perception of Israel, which is almost exclusively restricted to relations with Palestinian Arabs and with the Israeli-Arab minority.
Important issues related to democracy and human rights in the complex and unique Israeli context are entirely missing from this agenda, noted NGO Monitor.
"Taxpayer money is being channeled to organizations and activities that fuel the conflict, in violation of democratic principles," said Prof. Steinberg. "The EU can make a positive contribution to Israeli/Palestinian peace, but this requires a basic change in funding for radical NGOs."
EU funded organizations regularly employ demonizing rhetoric, campaign for anti-Israel boycott efforts (BDS), actively lobby international frameworks, and engage in lawfare activities, noted NGO Monitor.
For example, in 2010, the Israeli Committee Against House Demolitions (ICAHD), awarded an EIDHR grant of 169,661 Euros, presented a one-sided perspective on the conflict, including accusations against Israel of "ethnic cleansing," "genocide," "collective punishment," and "apartheid."
Such political activities are inconsistent with the ideals and principles of EIDHR, as well as EU foreign policy, NGO Monitor pointed out.
In a report last year, the organization found that EU funds are going to organizations involved in anti-Israel boycotts and violent demonstrations, which undermine the EU's efforts to secure peace in the Middle East.
NGO Monitor has also exposed that American money is being used by terrorist groups that undermine the chance for peace, but Prof. Steinberg told Arutz Sheva last year the United States has agreed to cut off funding to such groups.
The EU, Steinberg pointed out at the time, continues to refuse to respond to questions about the funding that it provides to anti-Israel NGOs.