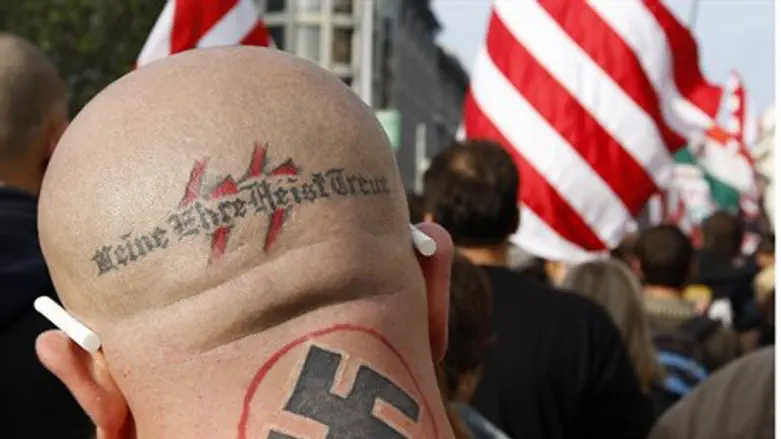 Neo-Nazi at Jobbik party rally (2009)
Reuters
Hungary's Jewish community is still reeling from Friday's political rally by the openly anti-Semitic Jobbik party in a former synagogue, according to Chief Rabbi Baruch Oberlander - and the fault lies with the city's mayor. 
"Unfortunately [the city of Esztergom] has changed mayors recently," the Rabbi explained to the local hareidi newspaper HaMevaser. "The new mayor, Ms. Tatani, an independent candidate who identifies with the Socialist Left party, decided not to send [Jobbik] to another center for the rally, and basically forced them to hold the rally specifically in that synagogue." 
The Rabbi explained that Jewish community leaders tried adamantly to stop the rally, to no avail. 
"We, on behalf of the hareidi communities of Budapest, turned to the mayor via a letter, asking that the rally be stopped from being held in the synagogue, and would even provide a replacement if need be - but she intentionally ignored it," he accused.
"Regrettably, it is obvious that the Socialist Left party has decided that it's worth it for them to cynically use Jews and the topic of anti-Semitism in the hopes that it will bring them victory in the upcoming elections. Unfortunately, many Jews and Jewish leaders participate in the elections, and the Socialists take advantage." 
The Rabbi cited the fact that Jobbik, apparently, was even willing to move the rally's location. "We feel that it was a provocation on the mayor's part [against the Jews], as even the Jobbik party itself offered to move the site for the rally [. . .] the mayor preferred that the rally be held n the former synagogue for political reasons, and this was not done." 
Anti-Semitic incidents in Hungary in recent years include the country's chief rabbi being verbally abused on a Budapest street, anti-Semitic chants at a football match against Israel and pig's trotters being placed on a statue of Raoul Wallenberg, the Swedish diplomat who saved thousands of Budapest Jews in World War II.
The Jobbik party is responsible for much of the anti-Semitism there. In November of 2012, one of its members released a statement saying that a list should be compiled of all of the Jewish members of government. He was followed by another Jobbik member who called publicly for the resignation of a fellow MP who claimed to have Israeli citizenship..
Last Thursday, the Hungarian Ambassador to Israel was summoned for a discussion by the Foreign Ministry in Jerusalem over the rising anti-Semitism and Holocaust denial in his country.