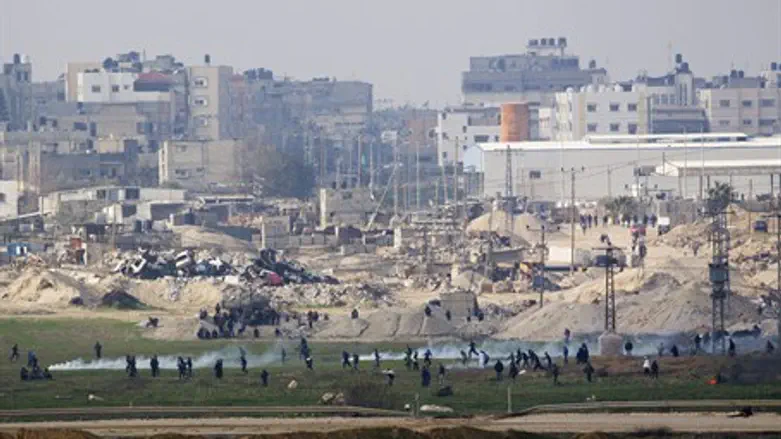 Demonstrators protest near the border fence w
Reuters
In the latest incident of provocation by rioters, Palestinian Arabs on Friday attacked IDF soldiers with rocks near the border fence in northern Gaza.
The troops responded by firing tear gas and live bullets. Local medics told the AFP news agency that 17 Gazans were wounded in the clashes, which are common on Fridays, when Arabs hold regular protests near the border in support of Gaza farmers who say troops uprooted their trees to create a buffer zone.
Gaza's emergency services chief Ashraf al-Qudra told AFP 13 protesters were wounded by gunfire and four hit by tear gas.
Earlier he said one of the men shot was in critical condition.
An IDF spokeswoman confirmed the shooting but did not say if anyone was hurt. She explained to AFP, "Hundreds of Palestinians were throwing stones to try to damage the security fence between Gaza and Israel."
"Our soldiers tried to keep the crowd at bay by using anti-riot methods and by firing live bullets towards the legs of the main instigators," she added.
In a similar incident last week, five Arabs were wounded by Israeli army gunfire near the border fence.
The soldiers opened fire after they were attacked by rocks hurled over the border fence.
Several weeks ago, two Gazan Arabs were wounded when IDF soldiers fired live rounds and tear gas at protesters who approached the border fence in Gaza and failed to comply with orders to turn back.
A similar incident took place in early January.
(Arutz Sheva's North American Desk is keeping you updated until the start of Shabbat in New York. The time posted automatically on all Arutz Sheva articles, however, is Israeli time.)