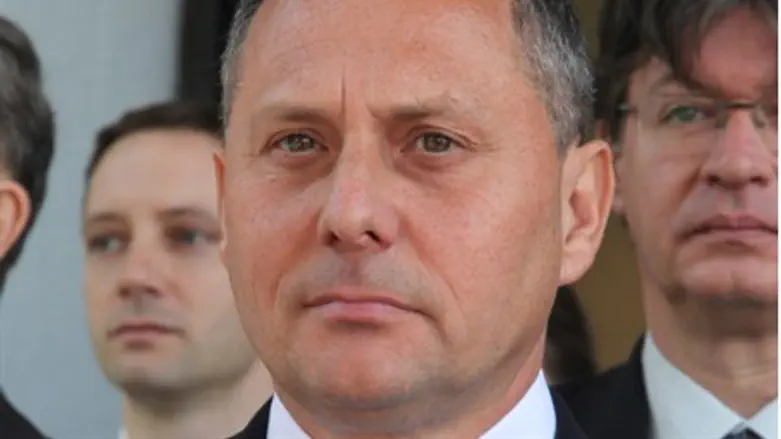 Hungarian Ambassador Andor Nagy
Flash 90
Andor Nagy, the Hungarian Ambassador to Israel, was summoned for a discussion by the Foreign Ministry in Jerusalem on Thursday, where he was questioned by Deputy Director-General for Europe Rafi Schutz  over the rising anti-Semitism and Holocaust denial in his country.
Nagy just took his post in Israel ten days ago. After President Shimon Peres raised the issue of growing Hungarian anti-Semitism, Nagy replied by denouncing the trend, saying that his government was opposed to it, and had taken steps to counter it.
Nevertheless, the Foreign Ministry called the meeting with Nagy over several recent troubling trends seen in Hungary.
Foremost among the trends are the governmental attempts to reform the image of Miklos Horthy, an anti-Semitic Hungarian leader who was a close ally of Nazi leader Adolf Hitler.
A statue was erected to honor Horthy last November, despite the fact that he was actively complicit in the mass deportations of Jews to Nazi death camps in 1944, which resulted in the deaths of around 450,000 Hungarian Jews.
The honoring of Horthy caused Holocaust scholar Randolph L. Braham of the City University of New York to return a Hungarian state award, while criticizing the "campaign of history falsification which aims to whitewash the (Miklos) Horthy era."
Hungary's whitewashing of history has included plans to build a massive monument commemorating the 1944 invasion of Hungary by the Nazis, which is seen as an attempt to portray Hungary as victims rather than active partners of the Nazis. The statue depicts a German imperial eagle attacking a seven meter-tall (22 feet) Archangel Gabriel representing Hungary.
In response to the rewriting of history, Hungary's largest Jewish organization, Mazsihisz, announced this Sunday it is pulling out of Hungary's yearly Holocaust memorial program.
Another troubling trend noted by the Foreign Ministry was the permission given to Hungarian Dawn (NFP), a neo-Nazi party, to run in the upcoming April 6 elections. The permission was given by Hungary's Elections Committee and the court in capital city Budapest, despite the party's outspoken racism.
The recent trends of historical whitewashing raise concerns in Israel, particularly since Hungary decided to hold a series of events memorializing the Holocaust. While the Jewish state initially supported the decision, it now fears the trends throw such efforts into doubt as further attempts to rewrite history.
Furthermore, Hungary was chosen to chair the International Holocaust Remembrance Alliance (IHRA) slated to start in March 2015, which similarly raises doubts about Hungary's ability to properly preserve the memory of the Holocaust.