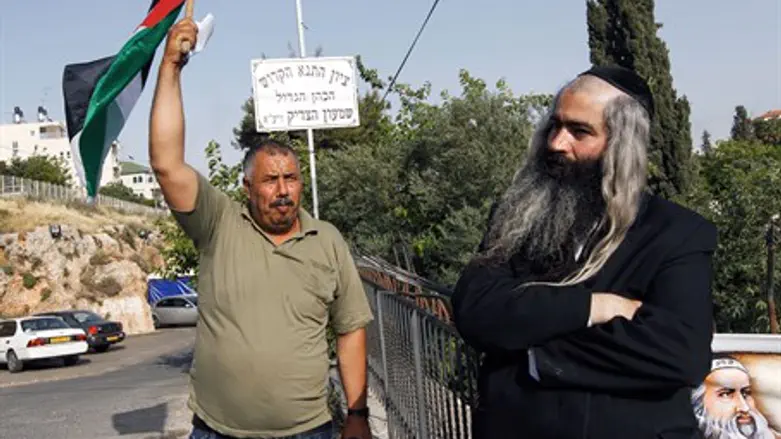 Arab activists harass local Jews in Jerusalem
Flash 90
Jerusalem's planning committee moved forward on Wednesday with plans to build a nine-storey yeshiva in the heart of the disputed Shimon Hatzaddik neighborhood, known as "Sheikh Jarrah" by Arabs, near the Old City.  
Plans for the new tower block were deposited for consultation, giving the public 60 days to submit any objections, according to the far-left NGO Peace Now.  
"It's a plan for a nine-storey, ultra-Orthodox [hareidi] yeshiva in Sheikh Jarrah which was deposited today for objections," spokesman Lior Amihai told AFP.    
"The plan was supposed to be discussed and approved a few weeks ago, however it was postponed - most probably due to political reasons," he said. IDF Radio also said Wednesday that the plans had been pushed off so as not to coincide with a visit by US Secretary of State John Kerry.
Amihai claimed the move was a provocation by the government.
"It's not a game changer but it's on a piece of land in Sheikh Jarrah which has already suffered a lot. It's a very sensitive area and I think the prime minister knows it."    
Those claims were echoed by Aviv Tatarski, a spokesperson for another far-left group, Ir Amim, which campaigns for Arab control over Jerusalem. Speaking to IDF Radio, Tatarski claimed the project, which would serve the Israeli capital's growing hareidi population, was part of a plot to displace local Arabs.
But Deputy Mayor of Jerusalem Dov Kalmanovich said the decision to build the yeshiva had nothing to do with politics or John Kerry.
"We've wanted this project for a long time already, and it has nothing to do with Kerry or the Americans," said Kalmanovich. 
Kalmanovich also denied the yeshiva was somehow a provocation, noting that Shimon Hatzaddik was no isolated outpost.
"The location is not in the middle of a casbah. The neighborhood, which we call Shimon Hatzaddik, is located just a few dozen meters from neighborhoods populated with tens of thousands of Jews," he pointed out.
"The Left are trying to mix municipal affairs and national-political affairs. But not everything which happens in Jerusalem needs to involve Kerry or Obama."
The Shimon Hatzaddik (Simon the Just) neighborhood gains its name from the tomb of the Talmudic Jewish scholar of that name which is located there. The tomb and surrounding lands were purchased by the local Jewish community in 1876. However, following the ethnic-cleansing of the area's Jewish residents by the Jordanian Arab Legion in 1947, the neighborhood was taken over by Arab settlers and renamed "Sheikh Jarrah", after a prominent Muslim figure buried nearby.
Since the unification of Jerusalem in 1967 the Jewish community has been revived, but Jewish families have faced hostility from local Arabs, as well as harassment from foreign anarchist and left-wing activists.