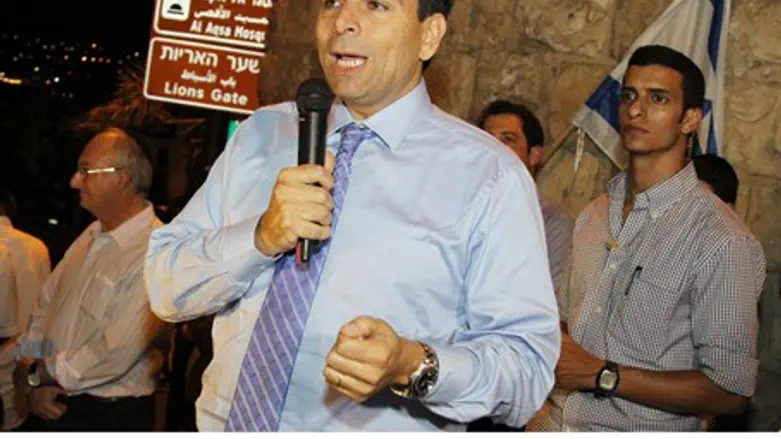 Danny Danon
Flash 90
Prime Minister Binyamin Netanyahu is ignoring the rules of democracy for the sake of preventing criticism of United States Secretary of State John Kerry's planned framework for Israel-Palestinian Authority talks, Deputy Defense Minister Danny Danon has accused.
Danon is openly working against Netanyahu's latest steps to control criticism within his party, and has taken the Prime Minister to court for his decision to silence Likud institutions.
Netanyahu put limits on ideological debate within the Likud in advance of the release of Kerry's plan, Danon said Wednesday. Media leaks regarding Kerry's plan indicate that it parts of it will be highly unlikely to earn Likud support, such as his call for an Arab capital city in Jerusalem.
"The Likud party is the last bastion of democracy in the Knesset, and the letters with threats and fear-mongering – like in Sharon's time – will not deter me from upholding Likud's democratic approach," Danon declared.
Former Likud Prime Minister Ariel Sharon was accused of using anti-democratic methods to counter criticism of his Disengagement plan. Among other things, Sharon ignored a Likud referendum on the issue, and ultimately circumvented the Likud by forming a new Knesset party – Kadima – without stepping down as Prime Minister.
Danon argued that he is the one fighting for the real Likud. "It saddens me to see that leftists winds are blowing even among those who call themselves Likudniks. We need to guarantee that the character of the Likud party will be preserved," he said.
Danon has publicly clashed with Netanyahu before. He was previously reprimanded by the Prime Minister over statements he made harshly criticizing the idea of an "intermediate agreement" with the Palestinian Authority.
Danon had said that the Likud movement "needs to say that whoever supports an agreement like that, does not belong in the Likud" – a criticism widely seen as having been directed at Netanyahu.