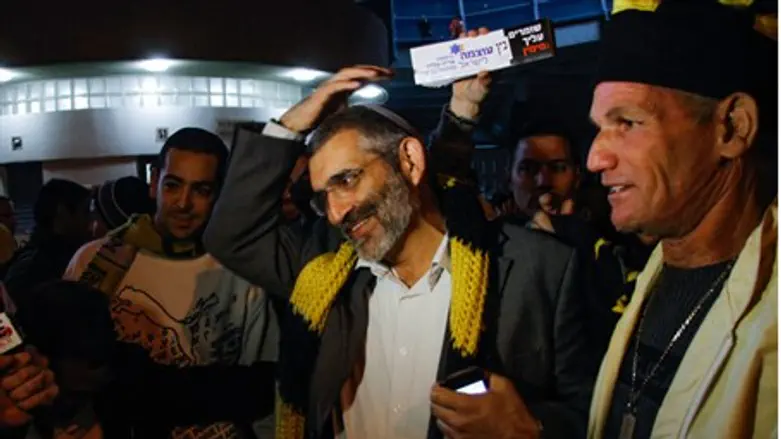 Michael Ben-Ari with Beitar fans (file)
Flash 90
Nationalist leaders former MK Michael Ben-Ari, Baruch Marzel, and Attorney Itamar Ben-Gvir on Tuesday plan to continue their tradition of attending tense soccer games between Beitar Jerusalem and Arab teams. This time, the opponent is Bnei Lod.
Ben-Ari and Ben-Gvir released a statement to Bnei Lod player Mohammed Azbarga, warning "we're coming to visit Azbarga the hater of Israel. We'll arrive at Lod for a game between Beitar Jerusalem and the Lod infiltrators, enemies of Israel that returned after (former Prime Minister Yitzhak) Rabin expelled them."
Fueling their visit are the words of Azbarga, who two years ago saw fit to insult Beitar, saying "I hope we'll beat Beitar and that they'll go down a league, that's what they and their trashy fans deserve. We need to put all of them in jail for their insults and behavior. I can't stand them. They need to invent new laws in the Knesset to take care of those pieces of garbage and get them out of soccer."
"We think the fans of Beitar are the salt of the earth, they show the beauty of Israel," said Ben-Ari and Ben-Gvir, who strongly support Beitar's fans expressions of nationalism, and the team's religiosity in not playing on Shabbat, a stance which often puts them in conflict with opposing Arab teams.
Fans of Bnei Sakhnin, an Arab team that has particularly clashed with Beitar, are reported to frequently wave flags of the terrorist organization Palestinian Liberation Organization (PLO) at games, despite being Israeli citizens.
In response to Azbarga's slandering of Beitar fans, the two nationalist leaders said this week, "we're tired of all this incitement against the fans, especially when the fans of clubs like Sakhnin or Lod make racist calls at games against the Jewish people."
"We'll arrive at Lod today to let them know, the nation of Israel are the owners of the land of Israel," added the two.
Tickets for the game went on sale starting Sunday; Beitar fans were shocked to discover the price for adults was 125 shekels ($36), an astronomical figure even for upper league matches.
Beitar fans responded by saying "Azbarga is insolent, revenge will come when we kick his club out of the cup race. He's just trying to mess with us before the game."
Video of the boisterous Beitar fans from November 2012, when Ben-Ari and Ben-Gvir arrived at a game held in Sakhnin, can be seen here: