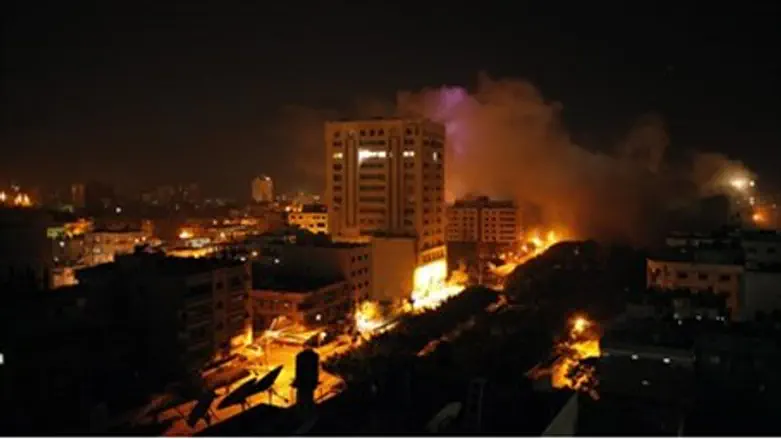 Airstrike (illustrative)
Reuters
Israeli Air Force (IAF) aircraft targeted terrorist sites in Gaza on Monday night, after several rocket attacks on southern Israel, Palestinian Arab sources and Israeli media reported.
The IDF Spokesperson's Unit said in a statement that a concealed rocket launcher in central Gaza and a terror target in northern Gaza were the targets of the airstrikes. The statement noted that direct hits were identified and all aircraft returned safely to their bases.
"The IDF sees all firing at Israeli territory as very serious and will continue to act against anyone who carries out terror against Israel," said the statement.
Shortly after 11:00 p.m. Monday evening, Gaza-based terrorists fired a rocket at southern Israel.
The rocket exploded in an open area of the Shaar HaNegev Regional Council, causing no physical injuries or damages.
On Monday afternoon, terrorists from Gaza fired a rocket which exploded in an open field near the Ashkelon coast. No physical injuries or damages were reported.
Gaza's steady upswing in rocket attacks came after Hamas gave terrorists the "green light" to open fire last Sunday, by withdrawing its forces that were deployed to prevent such rocket fire. Last Tuesday that force was redeployed, but this has had little effect.