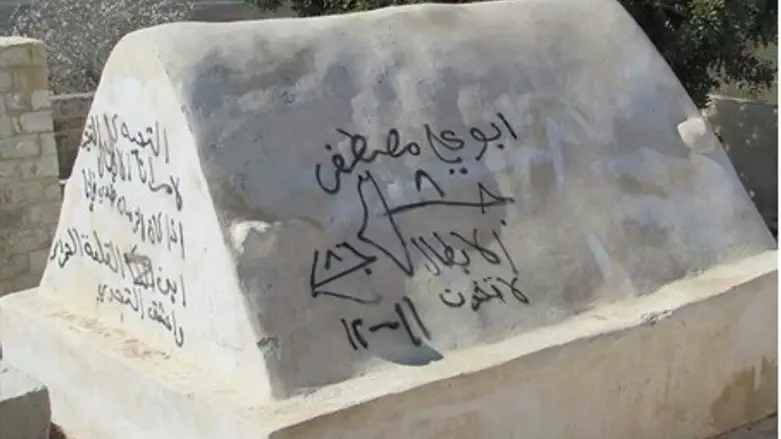 Arab price tag at Elazar Hacohen tomb
Binyamin Tzedaka
Arab graffiti was found scrawled all over the ancient grave of Elazar Hacohen, the son of Moses's brother Aaron from the Torah, in the Samarian village of Awarta near Itamar.
The Arab graffiti praised the terrorist group Popular Front for the Liberation of Palestine (PFLP) in fighting the "Zionist enemy" to "free Palestine."
"The heroes don't betray - all the praises to the victorious heroes," reads the Arabic vandalism, adding messages such as: "if time is against me, I'm a son of the red fortress and I'll yearn for confrontation," "we won't forget the blood of the heroes," "the end of the cursed one is that a day will come and he will die," and "force won't be answered except by force."
Jews in the region reportedly invested over 110,000 shekels ($31,192) to restore the ancient site recently, and just last Saturday night the walls were repainted by local Jews.
The Honenu legal aid organization noted "this is a test for the Israeli police to prove this time if it will handle this shocking incident in the way it does when the graffiti is in Hebrew."
Evidence from January showed how Arab residents stage Hebrew "price tag" vandalism to frame local Jews.