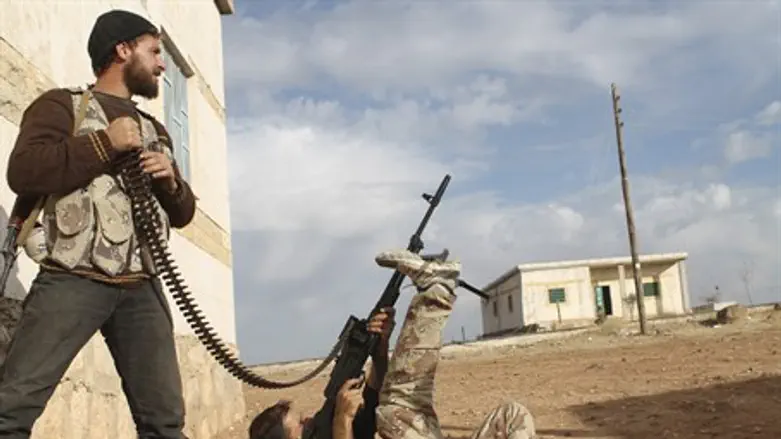 Syrian rebels in Aleppo
Reuters
A Syrian suicide bomber detonated himself in an Aleppo prison Thursday, freeing hundreds of inmates and intensifying the struggle to maintain control over the city, according to the Daily Herald. 
The attack began when a Chechen suicide bomber from the Al Qaeda satellite group Al Nusra Front attacked the prison gates, according to the British-based Syrian Observatory for Human Rights. Terrorists then managed to gain control of large parts of the compound.
Within a few hours, heavy clashes between the rebels and government raged inside. Hundreds of prisoners were freed during the chaos. 
Rebel groups have reportedly been besieging the prison for almost a year, which CNN estimates has at least 3,000 inmates - 800 of them women. Rebels have rammed cars loaded with explosives into the front gates twice, lobbed shells into the compound and battled frequently with the hundreds of guards holed up inside.
The attack follows several crude "barrel bomb" attacks on the city by government forces Thursday, which have killed more than 250 people over the past week. The Observatory noted that of those, an astounding 70 were children. 
Activists uploaded videos afterwards showing the horrific aftermath. 
Last month, the Syrian government denied that it was dropping the bombs, before offering a ceasefire over the city to the rebel groups. That offer was apparently denied, as the fighting continues. 
Thursday's attack may affect the humanitarian gesture scheduled for Friday morning, whereby Syrian President Bashar Assad has agreed to release civilians, distribute aid, and call a ceasefire in the beleaguered city of Homs. 
UN spokesman Farhan Haq stated that as of Sunday, "the United Nations and humanitarian partners had pre-positioned food, medical and other basic supplies on the outskirts of Homs ready for immediate delivery as soon as the green light was given by the parties for its passage. Aid staff were also on standby."
"What we're waiting for is a green light to be given by the parties for safe passage," Haq continued. It is unclear whether or not Syrian forces have followed through on the deal. 
The UN supplies are part of its massive humanitarian aid efforts for Syria, and particularly target Homs that has been the focal point of intense fighting; last summer Assad's army took back key parts of the city from rebel control, which was followed by a large-scale rebel attack on a weapons depot.