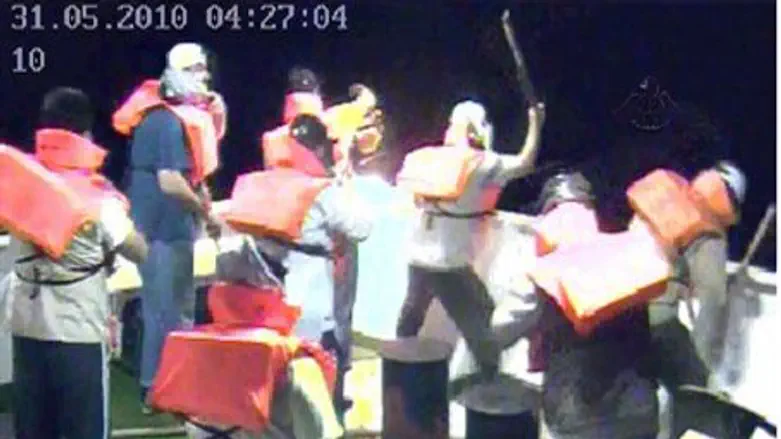 Terrorists on the Mavi Marmara
Israel news photo: Flash 90
Israel has offered to pay $20 million in "compensation" to the families of Turkish citizens killed during the 2010 Mavi Marmara flotilla, which tried to illegally break the IDF blockade on the terror group Hamas in Gaza. Nine Turkish Islamists were killed as they violently attacked IDF soldiers who boarded their ship.
Prime Minister Binyamin Netanyahu formally apologized to Turkey last March for the soldiers' use of force in saving their own lives. The flotilla was arranged by the Turkish Humanitarian Relief Foundation (IHH) that has been been linked to Al Qaeda.
Senior Western diplomats that were briefed on the negotiations said the compensation has not been finalized, as the sides have not yet reached an agreement, reports Haaretz. 
Negotiations over the compensations restarted last December after being on hold for months; according to reports the Turkish side initiated the renewal of talks.
Initially Turkey reportedly demanded $30 million in compensation, while Israel said it wouldn't pay more than $15 million. Netanyahu later conceded, raising the offer to $20 million, with an additional $3 million possible "if necessary to secure an agreement."
Turkish Prime Minister Recep Tayyip Erdogan visited Iran just last Tuesday, to discuss establishing a high-level council of cooperation, signalling the emerging alliance between Turkey and Iran.
Meanwhile security sources revealed last December that Turkey has replaced Iran as the lead sponsor of Hamas, funneling up to $250 million a year to the terrorist organization that has threatened Israel with another intifada terror war and genocide.
Last July, Turkey's Deputy Prime Minister Bulent Arinc said his country would not be satisfied with Israel simply paying compensation to the families of the Marmara terrorists; he insisted Israel must acknowledge that the money it is paying is a result of its committing a "wrongful act."
One of the flotilla participants who is set to receive compensation from Israel pledged last April to give all the money to Hamas and Islamic Jihad, two Iranian-backed terrorist groups.