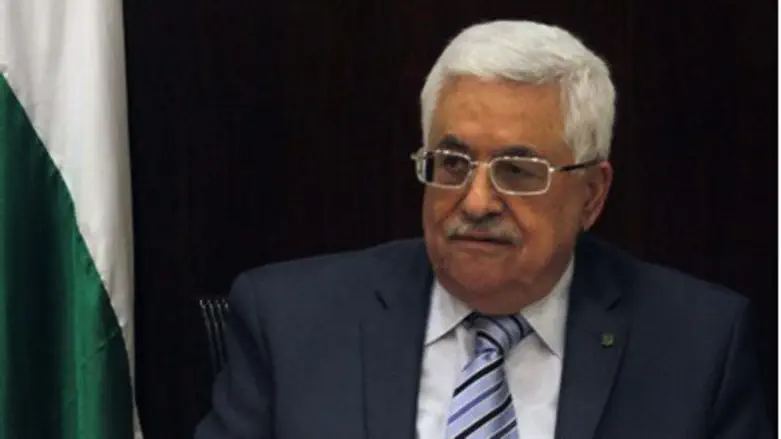 PA Chairman Mahmoud Abbas
Flash 90
Palestinian Authority (PA) Chairman Mahmoud Abbas has suggested that NATO would be left in charge of the future Palestinian state instead of an army.
Speaking to The New York Times from Ramallah, Abbas said that he would agree to let Israeli troops remain in the Palestinian state for a transitional period of five years to work with Palestinian and Jordanian security forces and reassure the Israeli public that it is not going to get hit with thousands of rockets, as was the case after the "Disengagement" from Gaza.
Last week, Abbas indicated that he would agree to have Israeli troops remain in Judea and Samaria for only three years, rejecting an idea by U.S. Secretary of State John Kerry to have Israeli forces remain for 10 to 15 years.
After the five-year transitional period, he told The New York Times, the Israeli forces could be replaced indefinitely by an American-led NATO force, with troops throughout the territory, at every crossing and within Arab eastern Jerusalem, along with Palestinian Arab police and security units.
The NATO forces could stay "for a long time, and wherever they want, not only on the eastern borders but also on the western borders, everywhere ... For a long time, for the time they wish. NATO can be everywhere, why not?" said Abbas.
Such a force, he said, "can stay to reassure the Israelis, and to protect us. We will be demilitarized. ... Do you think we have any illusion that we can have any security if the Israelis do not feel they have security?"
Abbas told The New York Times that he could not possibly accept a lengthy Israeli military presence in a sovereign Palestinian state, saying, "At the end of five years my country will be clean of occupation."
"The Israelis do not want the third party," he said. "[Former Israeli Prime Minister Ehud] Olmert, he welcomed this idea. Mr. Netanyahu told me directly, when we were in his house, 'I cannot rely on anybody to protect my security except my army. ...' He doesn't want to leave the borders to us. I told him, 'If you will not trust your allies, so whom do you trust? I am not bringing for you Turkey and Indonesia.' He said, 'I trust my army only. ...' The Israelis are occupiers and they want to stay forever. When they say they want to stay for 40 years, it means they will not go out from our territory."
"We have to address, first of all, Mr. Netanyahu," Abbas told The Times. "Mr. Netanyahu is the key. If he does believe in peace, everything will be easy."
The comments come as peace talks between the sides continue, and as Kerry is preparing to present his framework for the talks.
Last week, Thomas Friedman, who also conducted the New York Times interview with Abbas, published some details of Kerry's plan which, he said, will call for a phased Israeli withdrawal from Judea and Samaria based on the 1949 lines, with "unprecedented" security arrangements in the strategic Jordan Valley.
The Israeli withdrawal will not include certain settlement blocs, but Israel will compensate the Arab side for this with Israeli territory. The deal will call for "Palestine" to have a capital in Arab eastern Jerusalem and to recognize Israel as the nation state of the Jewish people. It will not include any right of return for Palestinian refugees into pre-1967 Israel, Friedman said.
American Jewish leaders  who were briefed by envoy Martin Indyk  provided some more details of Kerry's framework on Thursday, saying the agreement mentions a Palestinian state with borders based on the 1949 Armistice lines and with land swaps between Israel and the PA. 75 to 80 percent of the Jewish residents of Judea and Samaria would remain in their homes even after a permanent agreement.
It is believed that Kerry's framework is his way to convince the sides to continue the talks beyond the nine-month period that was decided upon and that is to end in April. While the PA previously declared that talks will not be extended by even one day, Abbas told The Times that April is "not a sacred date."
"Suppose by the end of nine months we got something promising. Shall I stop? I will not stop. If, after nine months, we didn't get anything, if there is nothing on the horizon, we will stop," he said.
Referring to Kerry's framework, Abbas distanced himself from it, saying, "He has the right to do whatever he wants, and at the end we have the right to say whatever we want."
Asked about Netanyahu's insistence that he recognize Israel as a Jewish state, Abbas said, "This is out of the question." He added that Jordan and Egypt were not asked to do so when they signed peace treaties with Israel.