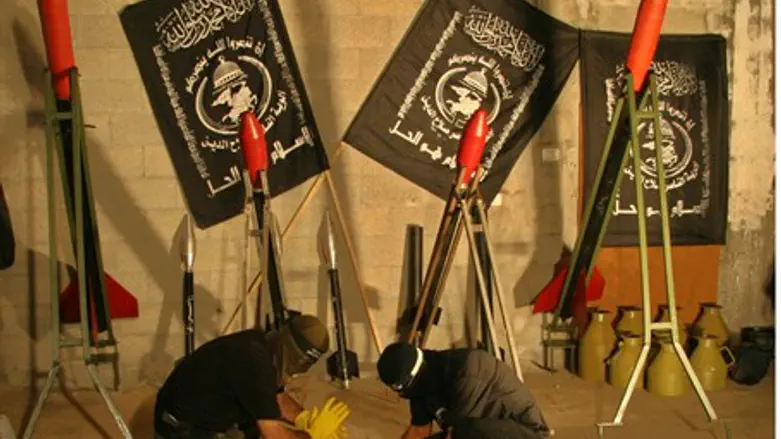 Illustration: Gaza terrorists manufacturing r
Flash 90
Hamas has ordered its forces preventing against rocket fire into Israel to retreat, Walla! reports Sunday - giving various terrorist groups a green light to attack Israel. 
Palestinian Arab insiders revealed to the daily that Hamas's military wing ordered the preventative forces to withdraw in retaliation to the Israeli Air Force's air strike on the Islamist-controlled territory last Thursday. That strike was Israel's retaliation measure after rockets from Gaza landed near Netivot.
The move provides a virtual "green light" for terrorists of various groups to fire on Israel, worsening an already precarious defense situation. Major General Aviv Kohavi revealed Wednesday night that some 170,000 rockets and missiles are already aimed at Israel. 
In the meantime, rocket fire has not escalated since the order was made Saturday night, leading experts to believe that the move is more political rather than military. Analysts theorize that the move is symbolic; in actuality, Hamas anti-rocket forces are still working behind-the-scenes to prevent rocket fire until Hamas clarifies its stance on escalation. 
Not all is well on the Gaza front, however. On Saturday, Intelligence Minister Yuval Steinitz warned that Israel will need to enter Gaza to destroy Hamas if attacks continue. 
"In the last year or two there has been an improvement in the security situation, fewer rockets have been fired at Israel and fewer Israelis have been injured," noted Steinitz. "But if the trickle of rockets from Gaza continues, we'll have no choice but to enter and eliminate the Hamas rule, allowing the Palestinian Authority (PA) to rule Gaza again."
Defense Minister Moshe Ya'alon warned Friday that he holds Hamas responsible for the attacks. 
"We view Hamas as responsible for what is happening in Gaza, and if it doesn't know how to impose its authority over the [terror] cells that fire [rockets] and attack Israel, it will pay a heavy price," Ya'alon declared.
"The IDF and security forces will continue to pursue anyone who shoots at Israel or tries to carry out attacks against it, and will not hesitate to hurt him and the people who send him."