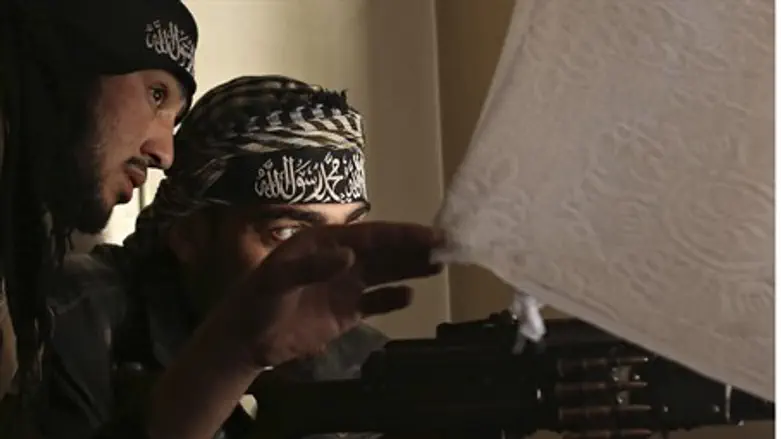 Islamist rebels in Syria
Reuters
Disturbing statistics have surfaced from Syria Sunday: over 75,000 foreign nationals have been fighting in the Syrian Civil War, according to a local website. 
The majority are from majority-Muslim countries or regions - where foreign nationals have been stirred to join by government forces, national-cultural ideologies, and religious fervor. According to the site, 14,000 hail from Chechnya; 12,000 from Saudi Arabia; 11,000 from Iraq; 5,600 from Turkey; 4,400 from Libya; 4,000 from Tunisia; 1,900 from Pakistan; 1,600 from Yemen; and 1,200 from Afghanistan.
Statistics show that Israel may be caught up in the effect the foreign nationals - who are being trained to bring terror home with them - could have on the Middle East. Among Israel's neighbors, 9,000 Lebanese, 2,600 Egyptians, and 2,400 Jordanians have joined the war; as have at least 5,000 Palestinian Arabs. 
Among Europeans, 750 Russian nationals, 660 Germans, and 450 French citizens have reportedly joined the fight.
It is not entirely clear how the statistics were compiled, but they do more or less reflect the kinds of numbers estimated by Western security agencies. On Saturday, French Prime Minister Francoise Hollande claimed that both France and Great Britain had seen up to 700 Muslim citizens each leaving their shores to fight in Syria.
While Western countries - especially the US and United Kingdom - have backed the rebel forces during the three year conflict, western states have become uneasy over the growing influence of radical Islamist elements among the rebel movement.
Recently, funding for some "extremist" rebel groups has been revoked, but foreign nationals - including many western citizens - continue to pour into Syria, and western security services are concerned about what this means for their own countries' future security. 
The West has become so concerned, in fact, that they have reached out to Assad's regime forces over the issue - but no progress has yet been made.
In the meantime, eyewitness accounts have confirmed what analysts have long suspected: that Al Qaeda is training Western nationals in the war-torn country to bring fundamentalist Islam - and terrorism - back home with them.