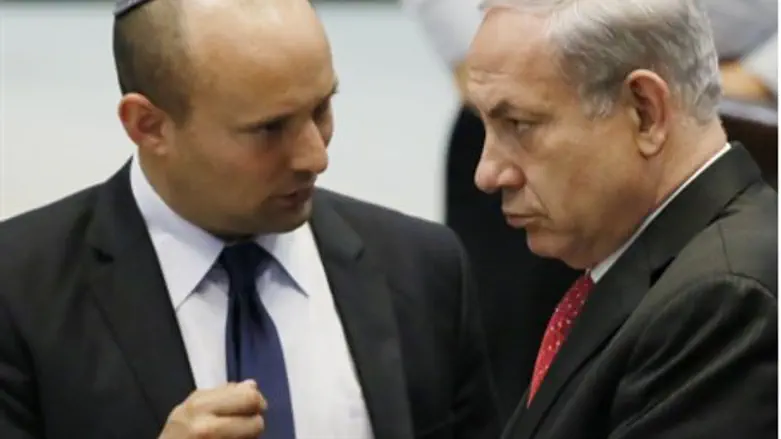 Naftali Bennett and Binyamin Netanyahu
Flash 90
As the diplomatic storm between Prime Minister Binyamin Netanyahu and Economics Minister and Jewish Home head Naftali Bennett continues to rage, observers may be forgiven for thinking the whole thing a little strange.
True, Bennett forcefully rejected the notion, floated by a source within the Prime Minister's Office, of abandoning Jewish communities in Judea and Samaria to Palestinian Authority (PA) rule as "a panicked loss of values" - but the ensuing backlash was surprisingly fierce and appeared to take on a life of its own.
Bennett was slammed not just for criticizing the Prime Minister but for purportedly ruining a "grand plan" to "show up" the PA when it would predictably refuse to allow any Jews to remain in a future "Palestinian State", as it has already done in the past. Despite protestations - including by a senior Likud official - that Bennett had a democratic right to speak out against a policy he opposed, the condemnations escalated into an ultimatum: apologize, or the Jewish Home is out of the coalition.
Now, a senior coalition member has claimed in an interview with Arutz Sheva that the entire saga was "engineered" by a senior member of Netanyahu's team, and that it was done with the specific intent to "heat things up" and drive a wedge between the PM and Bennett.
"The same figure has succeeded this time in leveraging Bennett's legitimate words against the [proposed] plan to leave settlers under Palestinian sovereignty, and to turn the whole thing into an unnecessary conflagration between the two men," said the official, who spoke on condition of anonymity.
"There was absolutely no reason" for things to escalate as they did, he continued, adding that it had gone "beyond a joke and an embarrassment".
As it stands, Bennett appears to have no plans to apologize for his comments, or even to relate publicly to the crisis between him and the Prime Minister. But analysts have been suggesting that the next 48 hours will likely see the two patch things up.
The relationship between Netanyahu and Bennett has been complicated almost from the very beginning.
Despite appearing to be the Likud-Beytenu list's natural coalition ally, Bennett's Jewish Home party was only brought in to the governing coalition at the very last minute after last year's elections. The bumpy relationship between the two can be traced back to Bennett's short-lived stint as Netanyahu's Chief of Staff, during the latter's first time as Prime Minister more than a decade ago.
Bennett was rumored to have had a falling out with Netanyahu's wife Sara, who some sources say is notorious for "interfering", and who subsequently pressured her husband not to admit the Jewish Home into the coalition.