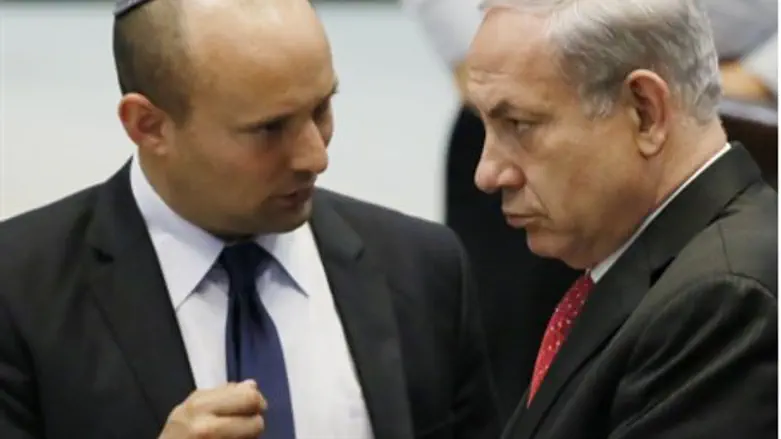 Naftali Bennett and Binyamin Netanyahu
Flash 90
A new exchange of fire Wednesday highlighted the growing rift between Jewish Home Chairman, Economics Minister Naftali Bennett, and Prime Minister Binyamin Netanyahu.
Bennett's criticism of Netanyahu's proposal on Sunday to leave Jews in Judea and Samaria under Palestinian Authority (PA) rule reportedly has Netanyahu livid.
In response, sources in Netanyahu's office said "no one will teach Netanyahu what the love of the land of Israel is," and further called Bennett's conduct "impudent." They say his behavior and "irresponsible style won't pass in silence. This behavior of Bennett's harms the interests of the settlements."
The sources threatened that "if (Bennett) won't apologize," he risks the dissolution of the current coalition government. "Netanyahu has enough alternatives. A government without Bennett will continue to concern itself with the security of Israeli citizens just like" the former government.
Knesset Council Chairman MK Tzachi Hanegbi (Likud Beytenu) joined the barrage against Bennett, suggesting that if "Bennett is unable to lie to himself, and can't give the prime minister backing, he should retire from his position."
Hanegbi, whose comments came Wednesday morning on Voice of Israel public radio, warned Bennett that Netanyahu's "patience will wear out if that behavior continues." In the past Hanegbi left Likud to join the leftist Kadima party, only to return again.
Bennett earlier in the week opposed the proposal from Netanyahu's office that Jews live under the PA, calling it "a very grave matter," and saying that "it reflects a panicked loss of values. 2,000 years of longing for the Land of Israel did not transpire so that we could live under Abbas's rule."
On Tuesday, Bennett reiterated in a speech at the Institute for National Security Studies (INSS) that "leaving Jews under foreign leadership is a 180-degree turn for Zionism. What happened to us? What are the implications of raising an idea like this?"
"Why should Jews in Tel Aviv live under Jewish sovereignty, while in Hevron and Eli they are not able to live under Jewish sovereignty?" added Bennett.'
Netanyahu is reportedly furious at Bennett for upsetting his "plan" to expose PA intransigence through the proposal, and indeed PA Chief Negotiator Saeb Erekat reiterated Sunday "no settler will be allowed to stay in the Palestinian state, not even a single one."
Meretz chairwoman MK Zehava Galon also blasted Bennett for opposing Arab rule over Judea and Samaria Jews. Galon accused Netanyahu of being a "coward" for not getting rid of Bennett.
"Bennett does not deserve to be a government minister and Netanyahu should get rid of him," ranted Galon, adding that after he gets rid of Bennett, Netanyahu should "do us a favor and resign himself" since he "is not taking the peace talks with the PA seriously."