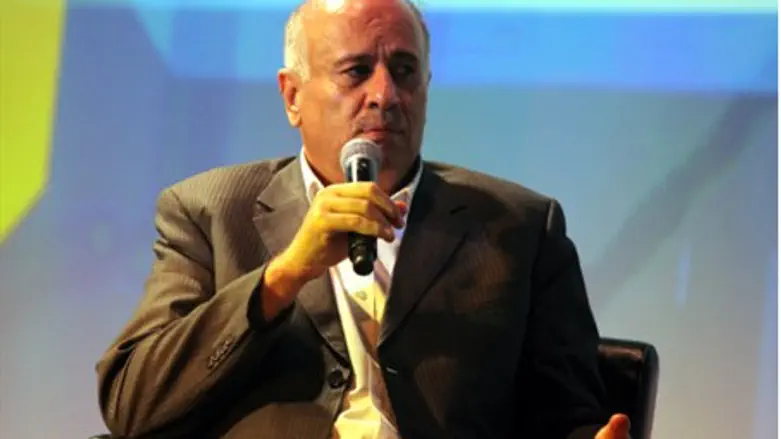 Jibril Rajoub
Flash 90
The senior Fatah member who threatened to use a nuclear weapon against Israel has pledged to continue "the resistance" against the Jewish state.
Jibril Rajoub, a senior member of Palestinian Authority (PA) Chairman Mahmoud Abbas's Fatah movement, made the comments during a meeting in Tehran on Tuesday with Iranian Foreign Minister Mohammad Javad Zarif.
According to AFP, Rajoub vowed that Fatah "will not stop the resistance until the establishment of an independent Palestinian government" in eastern Jerusalem.
He called on the "Iranian people and their government to redouble their support of the Palestinians against the occupation and against Israel's plans to Judaize the Holy City and expel its inhabitants."
Zarif, according to AFP, accused Israel of using Tehran's nuclear program to distract from its "crimes" against the Palestinians.
"Under the pretext of Iran's peaceful nuclear energy (program), the Zionists have always tried to distract governments and nations' public opinion from their own crimes in Palestine," he charged.
Rajoub is known for his incitement against Israel, even though Fatah is often touted as Israel's "peace partner".
In the past Rajoub denounced Jews as "Satans" before an audience. In a separate incident, he called Israeli Prime Minister Binyamin Netanyahu a "dog." He has also claimed in interviews that all of Israel is "occupied Palestine."
In June,  MK Zehava Galon, head of the leftist Meretz party, blasted the Defense Ministry for preventing Rajoub's participation at her party's conference.
Rajoub had been scheduled to speak at the conference. Galon contacted Defense Minister Moshe Ya'alon and asked that Rajoub be given the appropriate permit to attend, but the request was denied.
Ya'alon later explained that he had decided to block Rajoub's entry to Israel because of his constant incitement against the Jewish state.
"I cannot accept a situation in which a person spreads words of demonization and hatred against us, like the worst of inciters, and at the same time asks to enter the state of Israel as if nothing happened. You can't grasp the stick at both ends," said the Defense Minister.