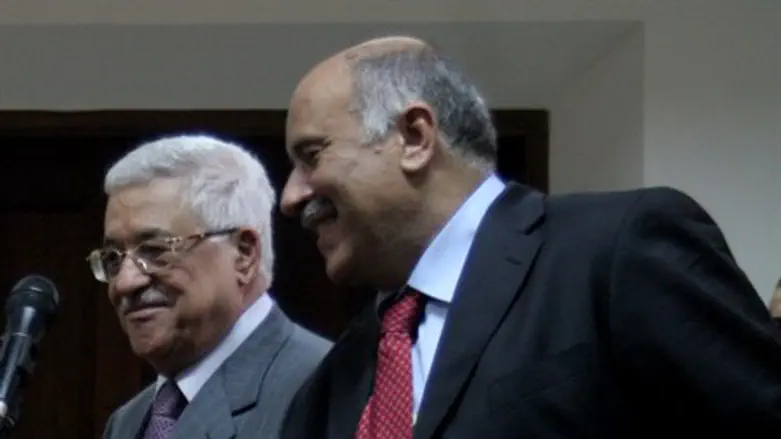 Rajoub (right) with Abbas
Flash 90
Reports continue to come in of mass starvation in the Yarmouk neighborhood in Damascus, which has been under siege for months as fighting continues in Syria.
The neighborhood is populated by descendants of Arabs who fled pre-state Israel, who identify as "Palestinian Arab refugees" and are recognized as such by the Palestinian Authority (PA).
However, despite that connection, the PA continues to side with Iran, which is backing Bashar Assad's army – the same army imposing the siege on Yarmouk. Senior PA official Jibril Rajoub, a member of the Central Committee of PA Chairman Mahmoud Abbas' Fatah party, recently made a trip to Tehran, where he voiced support for the position shared by Iran and Assad.
Rajoub voiced support for a solution through Syrian dialogue with no international intervention, as Assad's supporters have done.
Despite pushing for zero foreign intervention, Assad himself has received support from both Iran and the Lebanese terrorist group Hezbollah, which has sent many of its terrorist recruits to fight alongside the Syrian army.
PA Chairman Mahmoud Abbas has reconciled his party's stance with the situation in Yarmouk by blaming armed rebels, not Assad's troops, for the siege. PA Minister Mahmoud Habbash recently went one step further, suggesting that the situation in Yarmouk is based on "false baseless claims."
Habbash went on to suggest that those fighting in Yarmouk should fight Israel in Jerusalem, instead.